2010 Winter Tyres Buying Guide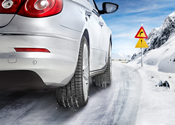 As the temperature in the UK starts to drop discussion naturally turns to winter tyres. After last seasons extremely heavy snow fall, people now understand winter tyres exist, but aren't quite sure which type of tyre or what brand of winter tyres is best.
All Season, Winter or Snow Tyres?
The first step in selecting a tyre for the cold season is understanding what types of tyre are on the market, and what they're specifically used for.
The first option is all season tyres. All Season tyres are designed to work year round and as such, are compromised for both normal road driving and when it snows. While they would work in the UK, they're not very popular as the UK climate has fairly well defined warm and cold seasons, with extremes in temperature which would leave all season tyres as pointless as their summer tyres.
The next option is snow tyres. These are designed with one thing in mind - snow and ice and are largely used in countries with extremely heavy snowfall. Designed with metal studs embedded into the rubber, these tyres bite into ice and compacted snow giving excellent grip in extreme weather. Snow tyres are overkill for the UK, and you would quickly destroy a set of studded tyres if you used them on non-snow covered roads.
The final option is Winter tyres. Winter tyres are designed for climates that have prolonged periods of cold, and can work with a little, or a lot of snow fall. The key to winter tyres is they're designed to work in conditions where the average temperature is below 7c for long periods. While winter tyres aren't "snow optimised" like snow tyres, they are many many times better than summer tyres when the snow falls and offer improved grip in any temperature below 7c.
Which winter tyres for my car?
While the British magazines perform annual tyre tests for summer performance tyres, the German and northern European magazines also release annual winter tyre tests every year giving excellent buying advice. After aggregating the magazine tests and reviews on TyreReviews we recommend looking into the following tyres:
Ultra High Performance
Continental Winter contact TS830P
The Continental Winter contact TS830P is the latest UHP winter tyre from Continental and placed 1st in the 2009 Sport Auto Winter Tyre Test. The tyre was prasied for excellent braking performance in snow, rain and the dry and having consistently high level of grip in the wet and snow.
Pirelli SottoZero Serie II
The Pirelli SottoZero Serie II is another ultra high performance winter tyre. It has both excellent reviews on the site, and placed second in the 2009 Sport Auto Winter Tyre Test with the remarks "Very balanced and good grip levels. High traction and braking performance in snow and rain".
Nokian WRG2
The Nokian WRG2 is a TyreReviews favourite, with near universal praise. While classified as a winter tyre it has excellent dry weather properties making it particularly suited the UK's climate.
High Performance / touring
Dunlop Winter Sport 3D
Placing 3rd in both the the 2009 Sport Auto and AMS winter tyre tests the Dunlop Winter Sport 3D is an excellent choice for the UK's roads.
Vredestein Snowtrac 3
The Vredestein Snowtrac 3 is an excellent tyre for small to medium sized cars and gets great reviews here at TyreReviews.
Bridgestone Blizzak LM30
The Bridgestone Blizzak LM30 was launched in 2009 and targeted towards compacts, mid-sized cars and family saloons up to T and H speed ratings. It promises to be one of the leading tyres in this years magazine tests so is certainly worth considering.
If anyone has any other suggestions please comment below or drop us an email.
Further Reading:
-
7 reasons to consider winter tyres
-
Guide to tyre seasons