2010 Year In Review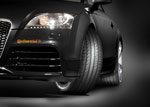 2010 has been an interesting year for the tyre world. Thanks to unusually heavy snow fall, winter tyres have been the hot topic, the discussions even making as far as Parliament. With only a few thousand sets of winter tyres sold in 2009, 2010 has seen such strong demand there has been a country wide shortage.

2010 also brought us the launch of three new maximum performance tyres - the Continental Sport Contact 5 P, Bridgestone S001 and the Michelin Pilot Super Sport. The Continental has already featured in 3 tyre tests, claiming two 1st positions and a 2nd. It will be extremely exciting to see if the new Michelin tyre, the true replacement for the Pilot Sport 2, will be able to end the run of Continental dominance.


Predictions for the next year
2011 should be another exciting year for the tyre world. With Michelin, Bridgestone and Continental fighting it out for the ultimate maximum performance road tyre, Pirelli, Goodyear and Dunlop will be redying their own updates to their range to ensure their products are not out classed.
Also confirmed is a new trackday tyre from Continental, the
Continental Force Contact
, which will hopefully spark the return of the trackday tyre test. The trackday tyre market is currently dominated by the
Toyo R888
, but with very little comparative performance data to analyse there could be a surprise upset in 2011.
2011 should also see accelerated development in the field of ultra low rolling resistance, or ECO tyre technology. Michelin pioneered this technology with the Energy Saver, but Pirelli have recently taken the initiative with the
CINTURATO
range, so expect things to heat up (or cool down!) next year.
Once again we'd like to take this opportunity to thank everyone who has taken their time to review their tyres in 2010 - without you this site would be a fraction of what it currently is.
Keep a look out for the 2010 Tyre Reviews Awards, due soon.