2011 Autoreview Max Performance Summer Tyre Test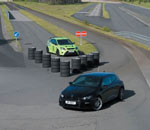 If a broken car is a sign of a good tyre test, breaking a Focus RS twice, then giving up and using a Sirocco R means the latest Max performance tyre test from Russian magazine Auto Review should be the best tyre test yet. Fortunately, it doesn't disappoint.

An ideal tyre test would take the huge amount of clinical data taken from the average German tyre test, and combine it with the glorious enthusiasm of the British tyre test like EVO. This is exactly what Auto Review have achieved when testing 9 of the latest Max Performance Summer Tyres, at the Contidrome in 235/35 R19. Instead of summarising the test, we'll go straight to the full results with each tyre summarised in excellent detail. For even more information, be sure to check out the full test (and brush up on your Russian) at Auto Review or just checkout a spreadsheet overview of the full results here. One final thing to note, the Russian magazines subjective scores were based on "ease of driving".

The Results
1st: Continental ContiSportContact 5 P


Total: 116.1
Dry: 28
Wet: 46
Subjective: 19
Comfort: 6
Noise: 8
Overall: 9.1

Positive: High resistance to aquaplaning, great grip and handling on both wet and dry roads
Negative: Poor tread wear
Overall: The SportContact 5P is a very balanced tyre, scoring strongly in both the wet and dry. The main achievement of the 5P is the excellent resistance to aquaplaning with excennelt braking characteristics on dry roads. At the limit of grip in the wet, the tyre starts sliding gently and only needs small steering angles to get back in line. The speed on the track isn't the highest, but it's not far off the leader, just 0.6 seconds behind in the dry.
Misc: Tyre Weight: 9.6kgs / Tread Depth: 7.7mm / Rim Protection: 5mm

Read Reviews Buy from £120.40
2nd: Pirelli P Zero


Total: 113
Dry: 27
Wet: 44
Subjective: 18
Comfort: 7
Noise: 8
Overall: 9

Positive: Great grip and handling in the wet and dry
Negative: Low resistance to curved aquaplaning
Overall: While the P Zero is now 5 years old, a second second place proves Pirelli are doing a great job of keeping it up to date. It's raw grip in the wet and dry topped the tables, with its only negative score due to a rather abrupt slide quality in the wet. The poor curved aquaplaning results left the P Zero just 0.1 points behind the 5P!
Misc: Tyre Weight: 9.8kgs / Tread Depth: 8.1mm / Rim Protection: 3mm

Read Reviews Buy from £92.04
3rd: Hankook Ventus S1 evo


Total: 109.6
Dry: 25
Wet: 44
Subjective: 16
Comfort: 6
Noise: 10
Overall: 8.6

Positive: Good in the wet, excellent resistance to aquaplaning, quietest tyre on test
Negative: Only 8th fastest time in dry handling
Overall: The Korean Ventus S1 EVO was the surprise of the test, scoring well in nearly every test and offering excellent value for money, being the cheapest tyre on test.
Misc: Tyre Weight: 10.2kgs / Tread Depth: 7mm / Rim Protection: 2.5mm

Read Reviews
4th: Goodyear Eagle F1 Asymmetric


Total: 109.4
Dry: 21
Wet: 47
Subjective: 17
Comfort: 8
Noise: 8
Overall: 8.4

Positive: Best wet grip and handling, high resistance to aquaplaning, comfortable tyre
Negative: Not so great in the dry
Overall: Despite being a fairly old tyre (the Asymmetric 2 is now launched) the F1 Asymmetric still places a strong 4th thanks to its excellent wet weather grip and handling coupled with a comfortable ride. Unfortunately the F1 Asymmetric was let down by its "floaty" dry handling, something which has been resolved in the new version
Misc: Tyre Weight: 11.5kgs / Tread Depth: 8.5mm / Rim Protection: 4.5mm

Read Reviews Buy from £108.50
5th: Toyo Proxes T1 Sport


Total: 106.3
Dry: 27
Wet: 38
Subjective: 18
Comfort: 6
Noise: 9
Overall: 8.3

Positive: Good dry grip and handling, low noise
Negative: Poor resistance to aquaplaning
Overall: The T1 Sport are the best of the Japanese trio of tyres, trading poor aquaplaning results for excellent dry handling and low noise. If Toyo could correct the wet weather issues it would be a top 3 tyre
Misc: Tyre Weight: 10.2kgs / Tread Depth: 7.5mm / Rim Protection: 1.5mm

Read Reviews
6th: Michelin Pilot Super Sport


Total: 103.2
Dry: 29
Wet: 39
Subjective: 16
Comfort: 5
Noise: 6
Overall: 8.2

Positive: Best dry handling, fastest dry lap time, best steering feel
Negative: Poor resistance to aquaplaning, low level of comfort
Overall: The Michelin Pilot Super Sport is a good example of how it's extremely difficult to achieve excellent in all areas. Michelin have prioritised dry grip and steering feedback with the Pilot Super Sport, giving the tyre the best dry lap time and handling, at the expense of wet performance and comfort.
Misc: Tyre Weight: 10.1kgs / Tread Depth: 7.7mm / Rim Protection: 4.5mm

Read Reviews Buy from £135.08
7th: Nokian Hakka Z


Total: 106.2
Dry: 26
Wet: 43
Subjective: 14
Comfort: 6
Noise: 9
Overall: 8.2

Positive: A well balanced tyre, good resistance to aquaplaning in a curve
Negative: Handling on wet pavement
Overall: A good high speed road tyre without an obvious specalisation
Misc: Tyre Weight: 10.6kgs / Tread Depth: 7.5mm / Rim Protection: 4mm

Read Reviews
8th: Bridgestone Potenza RE050A


Total: 88.7
Dry: 25
Wet: 28
Subjective: 13
Comfort: 7
Noise: 9
Overall: 6.7

Positive: Quiet, reasonable handling in the dry
Negative: Poor wet grip, poor wet handling, low aquaplaning resistance
Overall: For a tyre which is fitted to cars like the Ferrari 430, the RE050A has a very poor result. Perhaps Bridgestone use a different compound for the Russian market as it was a full 10 metres behind the best tyre in the wet braking test. Bridgestone have recently release the S001, and there is rumours of the S04 coming to Europe.
Misc: Tyre Weight: 11.1kgs / Tread Depth: 8mm / Rim Protection: 5.5mm

Read Reviews Buy from £108.00
9th: Yokohama ADVAN Sport


Total: 85.4
Dry: 22
Wet: 29
Subjective: 13
Comfort: 6
Noise: 9
Overall: 6.4

Positive: Quiet
Negative: Poor wet grip, poor wet handling, low aquaplaning resistance
Overall: The Yokohama Advan Sport scored similarly to the Bridgestone RE050A giving average dry performance and poor wet scores. This again raised the question as to whether the Japanese ship a different compound into Russia, or is it just one of Yokohamas flashship tyres really lags behind its competitors
Misc: Tyre Weight: 11.1kgs / Tread Depth: 7.7mm / Rim Protection: 3mm

Read Reviews
Score weighting: 40% wet / 30% dry / 20% subjective ("Ease of driving") / 10% comfort