Bridgestone Adrenalin RE002 - Launched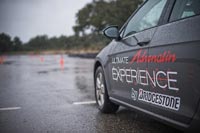 The newly released Bridgestone Adrenalin RE002 takes Bridgestone in a new direction. Previously Bridgestone tyres have been designed with OE fitment in mind, where grip, steering feel and wear have been compromised by OE requirements such as rolling resistance, noise and comfort. The new Bridgestone Adrenalin RE002 hasn't been aimed at OE fitment, it's a purely aftermarket tyre designed for driving enthusiasts.

"Adrenalin targets a mindset: whether the driver owns a city car, tuned car, two-seat roadster or standard saloon, Adrenalin promises a daily driving sensation with razor -sharp steering response and precision handling on the urban circuit" - José-Enrique Gonzalez, Director Consumer Marketing & Sales Support

During the launch we had the opportunity to compare the new Adrenalin RE002 with a Bridgestone tyre covering the similar 15-18 inch size range, the Bridgestone Turanza T001.

Noticeably stiffer in construction, the RE002 is aimed firmly at those who enjoy driving. It utilises a solid centre rib design and high grip shoulder blocks to ensure a good grip level with quick, accurate steering, while a new "pulse" groove tread pattern ensures standing water is dealt with ease and gets deflected out from under the tyre.


The Driving
To highlight the improved steering response and grip, Bridgestone offered us identical cars to test the Adrenalin RE002 against their less sporty offering, the excellent Bridgestone Turanza T001.
On a dry track the new Adrenalin RE002s steering speed and stability advantage was obvious when compared directly to the softer Turanza T001. The cars, Audi A3s wearing 205/55 R16 tyres, turned noticeably slower on the T001, and during high speed cornering the car wandered a lot more.
During wet handling, while the grip was broadly similar, the sporty characteristics of Adrenalin again shone through, allowing apexs to be hit with a far higher accuracy, and the braking to turn in phase being far less fussy.
Who should buy this tyre?
If you spend your time running up and down the motorway, or driving slowly around town, this tyre probably isn't for you. If you sometimes take your car near, or to the limit of grip, and your priority leans towards steering speed and feedback, and getting the best driving dynamics from your car, you are the target.
While it's not going to transform your vehicle from a shopping car to a hardened racer, it will improve your car's dynamic qualities, and when paired with changes such as revised suspension / wheel sizes, make a real difference.
The new RE002 is already getting excellent user reviews, why not check some out!
Further Reading:
Further Tyre Information