Continental ContiSportContact 5 Launched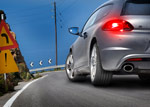 Continental have just launched the new ContiSportContact 5 and ContiSportContact 5 SUV, which replace the ContiSportContact 3 and sits just below the max performance Sport Contact 5 P in the range.

When developing the Sport Contact 5 Continental concentrated on improving the award winning Sport Contact 3, besting its predecessor in every area:


9% better wet braking
1% better aquaplaning resistance
4% dry braking
5% dry handling
12% better rolling resistance (lower fuel consumption)
13% improved wear
5% quieter
During the launch, the Sport Contact 5 was given a thorough track test on a 135i, where the tyre held together remarkably well even under extreme circumstances showing almost no drop off in performance under aggressive driving. Even when pushed past the limit, the tyre didn't delaminate as so often happens with cheaper rubber as this video highlights:
The new Sport Contact 5 should score extremely well in the magazine tests over the coming months.
Full press release
The new ContiSportContact 5
Continental reduces braking distances on high-tech tyres
Substantial reduction in rolling resistance also achieved in development of sports tyres
ContiSportContact 5 is suitable for sporty cars and high-performance SUVs
Hanover / Albufeira, April 2011. Continental now has a new tyre in its portfolio which is equally suitable for sporty cars and for SUVs with sporty driving characteristics - the ContiSportContact 5. When compared with its popular predecessor, the new tyre reflects the considerable progress made by the tyre engineers - extensive research and a multiplicity of tests during the development stage meant that braking distance on both wet and dry roads could be markedly reduced. Furthermore, rolling resistance was cut by over 10% and mileage performance enhanced by 13%. These improvements were due in particular to the tyre's innovative compound, which is designed to achieve maximum transmission of forces when braking and low rolling resistance during normal driving. To do this, the rubber formula, referred to as BlackChilli Compound, utilises the different vibrations of the tyre.
Improvements have also been achieved in the handling of the tyre, which can now deliver an even sportier performance than its predecessor. This spring Continental's new sports model will be available from tyre stockists as a 50 to 35 Series car tyre suitable for 17" and 18" rims and approved for speeds of up to 300 km/h (187 mph), whilst for SUVs the range covers 55 to 45 Series tyres suitable for 18", 19" and 20" rims, also approved for speeds of up to 300 km/h.
Size range
Cars
50 Series:
205/50 R 17 W XL
215/50 R 17 W XL
225/50 R 17 Y XL
235/45 R 18 Y XL
45 Series:
205/45 R 17 W XL
215/45 R 17 W / W XL
225/45 R 18 Y XL
SUVs
235/55 R 18 V
255/50 R 19 Y XL
275/45 R 19 Y XL
275/40 R 20 Y XL
275/45 R 20 Y XL
Further Tyre Information