Falken have a new take on the runflat
Runflat tyres are both a genius idea, and a mini disaster. Designed with safety in mind, a runflat tyre can be fully deflated, and still driven on for up to 50 miles at 50 mph, meaning punctures are far less of a safety issue or inconvenience than they used to be.
Sadly, this extra level of safety comes with a price, namely comfort. Runflat tyres, especially the early generation of tyres, are known for being uncomfortable, noisy, susceptible to tramlining and generally all round unpleasant to live with. This is due to the way runflat tyres differ from normal tyres - in order to strengthen the tyre to accept such high deflated loads, a lot of effort is put into reinforcing the sidewall. This strength comes from extra materials, which gives the tyre extra weight, and causes the handling problems mentioned above.
The Falken Way
For the latest Falken FK453 Runflat, Falken believe they've found a better way of making a runflat tyre. Its NEO T-01 technology, developed by Falken's parent company Sumitomo Rubber Industries (the fifth-largest tyre manufacturer in the world) uses a novel assembly method that, when combined with upgrades in compound and construction, improves uniformity at high speed by up to 70 percent and reduces weight by 10 percent compared with conventional run-flat tyres. More uniformity and a lower weight means less of the traditional runflat issues, while retaining the safety benefits of runflat technology. In identical sizes, the new Falken FK453 Runflat is only 4% heavier than the non-runflat version, and up to 10% lighter than its key competitors.
How has it been done?
I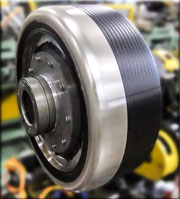 n order to get a better understanding of the new process, a Q&A session was put to Andreas Giese, who works as product planning manager for Falken Tyre Europe.
– Andreas, can you tell us a little more about this product and why Falken is now manufacturing this type of tyre?
AG – Falken decided to launch a Run Flat Tyre or RFT product after SRI developed a new manufacturing technology that we believe solves some of the current customer issues with RFTs. Our research showed consumers found conventional Run Flat Tyres deliver a stiff ride and are heavier compared with a standard tyre. The latter makes them harder to fit and has a negative impact on fuel economy. Mounting the tyre is a real factor for fitters; the high-strength beads used and stiff sidewalls mean mounting times can be much longer for RFTs.
– So does your manufacturing process solve this?
AG – Yes, we have a very new and innovative manufacturing process and we believe this has unlocked some key improvements in performance. This has taken considerable development, the project started in 1996 when we started "Taiyo (Sun)," a new manufacturing system to achieve both fully automated production and to save space in the production facilities. "Taiyo" has evolved and in 2008 a new manufacturing system project was decided upon to achieve "ultra-high precision". This project has recently culminated in the development of our next-generation manufacturing system, "NEO-T01"."NEO" is an acronym derived from "Next (Generation), "Elaborate" and "Orb." The letter "T" represents "Taiyo (Sun)," "Technology" and "Tyre," while the "01" signifies "first iteration" of our next generation manufacturing system.
– How is this different?
AG – Tyres are usually formed using a cylindrical, metal drum. Component parts of the tyre are then fixed to this drum and joined together to form the tyre. For "NEO-T01" manufacturing processes, we have developed the "Metal Core Process". The parts are affixed to a metal former (core) made to the exact shape and size of the actual finished tyre's inner surface. It's more automated and this improves the tolerances and ensures only the material needed is applied. Now we could theoretically produce results within a tolerance of just 0.01 mm. The result of this the tyre is 10 percent lighter than a conventional RFT and in fact, our RFT FK453 is just 4 percent heavier than our standard UHP FK453.
– With a new process, is the tyre more expensive?
AG – Some parts of the process are more expensive and we can't yet manufacture to the same volume levels but on the other hand, we are able to gain in other ways. The result is that we can deliver a competitive price for the dealer and consumer alike.
– What about the ride quality – how have you improved that?
AG - Through the novel construction of the sidewall, we can achieve superior Run-Flat performance yet still be around 20 percent more compliant than our competitors. We thereby maintain the ride comfort and can counter a criticism made of other Run-Flats to date. And we still can achieve 80km at 80km/h at zero pressure to help a customer get to a position of safety to replace the wheel.
– When are the tyres available?
AG - The Azenis FK453 Run-Flat was initially launched in 245/45RF18 96Y and 275/40RF18 99Y sizes ideally suited for the BMW 3 and 5 Series. This year, Falken will release seven further 17-19" sizes, including 225/50RF17, 225/45RF18, 225/40RF19 and 255/35RF19, targeting the aftermarket fitment for cars such as MINIs and BMWs.
We look forward to user reviews of the new FK453 runflat appearing on tyrereviews. Reviews of the non-runflat version of the FK453 can be found here.
Further Tyre Information