Featured Review: Michelin Pilot Super Sport
Recently Michelin officially launched the new Max Performance Michelin Pilot Super Sport in the UK. As part of the launch Michelin held a competition to win a day driving on the Pilot Super Sport at the Porsche Driving Centre at Silverstone. Below is the feedback we received from one of the lucky winners, which was just too excellent not to feature.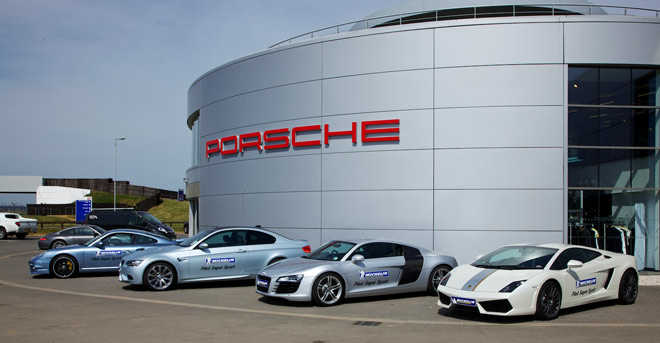 Sean Millar writes...
While I have 3 track days behind me, I am not very experienced at pushing a car to the limits and to be honest I did not really believe someone of my experience would notice the difference between top brand tyres - I was just hoping for a good day out driving Porsches! Therefore I will describe my experience in layman terms which will not necessarily use the correct technical terms for tyre testing.

The first test I did was on the Porsche track at Silverstone in a 911 with a leading competitor tyre, immediately followed by a test in another 911 with PSS tyres. The track is set up as a country B road and replicated what we all drive on most days which made the test a lot more relevant. Prior to the start Michelin staff demonstrated that all the pressures were the same and allowed us to inspect both sets of tyres to ensure they were in the same condition, which they were.

We had Porsche driving instructors with us and they had no bias at all, I questioned them if they had driven the PSS and none of them had. I drove the competitors tyre first (Dunlop - there were others though) and as a novice, it seemed to perform very well allowing me to push the car as I wanted, encouraged by the instructor.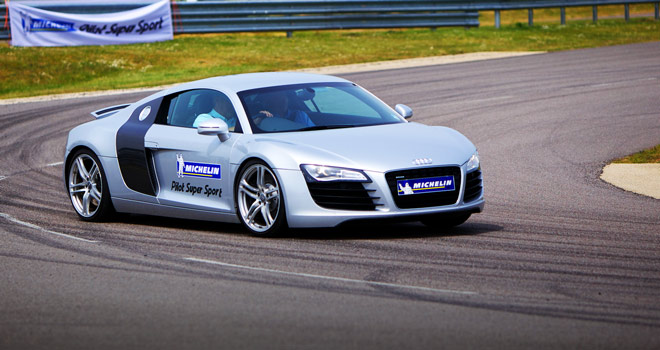 I would have been happy with this tyre if it was on my car but then I drove the 911 with the PSS and the difference was very noticeable from the first time I accelerated hard. The car remained straight with no twitching under hard acceleration and as I arrived at the first corner I braked as I had with the Dunlop and found that I had slowed down far too much and completely ruined the corner such was the difference in braking performance between the tyres.

The instructor pushed me on and I found that I was braking significantly later and taking a lot more speed into the corners and also got on the accelerator earlier. As I tuned in I could feel what the car was doing which allowed me to drive harder to try and find the limit of the tyre which I never did as my talent ran out before the tyres did. There was some understeer with the Dunlop and I could feel the car scrabbling for grip but with the PSS it was non existent even though I was driving faster.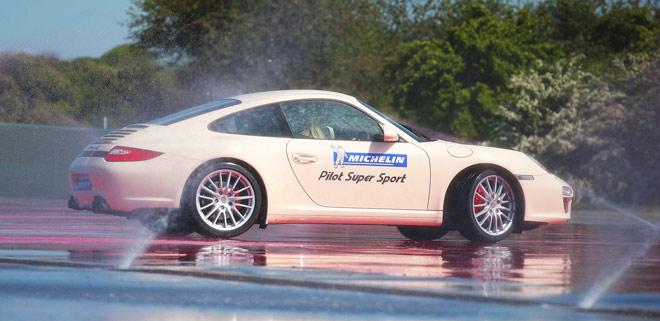 Now the cynic might say I was just getting more confident as I did more laps but there were 32 competition winners and of the 8 in my group 2 drove Ferraris and 2 M3s and most of them had a lot more track day experience than I did and they had exactly the same impression as I did. In fact during lunch all I could hear was how blown away people were at the difference between the tyres and their performace.

We then moved on to straight line braking distances in BMW 325is. To cut a long story short the PSS stopped on average 3 metres shorter than the competition and baring in mind this was flat out on a wet surface it was impressive just how quickly a modern car can stop but the fact the PSS did it 3 metres shorter could mean the difference between a shock and a very large insurance claim.

Further Reading:
Further Tyre Information