Firestone is back - Destination HP Launched
Firestone, the iconic American tyre brand, is being relaunched.
Founded in 1900, Firestone has a rich racing heritage, and a huge global brand recognition. Since being purchased by Bridgestone in May 1988 the brand has largely stood still in Europe... until now.
In 2014 Bridgestone are relaunching the Firestone brand. The brand is reasserting its core philosophy which is to allow everyone the freedom to drive and discover, and aiming itself at the younger age group in the replacement market, looking for a second or third replacement tyre.
The Tyre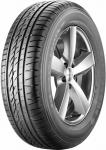 As part of the brand relaunch, Firestone launched the first of their new tyres - The Firestone Destination HP.
Aimed a small to medium 'lifestyle' SUVs, the Destination HP continues Firestones principle of safe, reliable products at reasonable prices, and aims to provide SUVs with best-in-class mileage and control in the wet, with top handling stability in all conditions.
When compared to 3 competitors during internal tests, the Firestone Destination HP equaled the best wet performance but offered much higher mileage when compared to the same competitor. While a second of the competitors could almost match the wear of the new Destination HP, it fell a long way behind in wet grip and safety. This demonstrates the Firestone has managed to blend wet grip, safely and wear, providing an excellent all round tyre.
We were giving the opportunity to try the new Destination HP on the launch. While there was no comparison driving, we did manage to test the new tyre in some extreme conditions.
During normal road driving the tyre felt as any tyre should, quiet, comfortable with a moderate amount of feedback. Once on the wet track, the Firestone shone, offering excellent wet grip and plenty of high speed stability during rapid direction changes on the Kia Sportage test vehicles. It even withstood high amounts of punishment during rough, stoney offroading, further highlighting the tyres toughness.
Will the brand work
With the might of Bridgestones technical capabilities, and wallet, Firestone could make a huge impact in the profitable mid-range sector.
If the new range of Firestone tyres are priced keenly, the current champions of the mid-range sector such as Hankook, Kumho, Vredestein, Toyo and Falken will have to up their game to match.
The Destination is out now in 12 sizes, with 9 more sizes due in September 2014. Later in the year, Firestone will launch a new winter and all season product.
Available now

Available 09/2014

235/55 R17 99 H

225/60 R17 99 H

225/60 R17 99 V

235/60 R16 100 H

225/65 R17 102 H

235/65 R17 104 H

235/65 R17 104 V

235/65 R17 108 H

215/65 R16 88 H

215/70 R16 100 H

265/70 R16 112 H

245/70 R15 109 T

275/55 R17 109 V

255/60 R17 106 H

255/60 R17 106 V

265/65 R16 112 H

255/65 R16 109 H

265/70 R15 112 H

265/70 R15 112 T

225/75 R16 104 H

235/75 R15 109 T
Further Reading
Further Tyre Information