Fulda SportControl - Launched
Fulda, a German tyre brand owned by Goodyear Dunlop, is a largely ignored in the UK. While it has near premium status in Europe, we seem to stick to the mid range brands we know, such as Falken, Toyo, Vredestein and Kumho.

Recently Fulda launched a new tyre - the Fulda SportControl. While the press release (copied below) highlights things such as progressive humps, a light weight carcass, full silica tread featuring aquaflow and many other advanced technologies, a few things not included in the press release caught our eye:

1) Price - The Fulda SportControl is significantly cheaper than premium and other mid range brands.

2) Group test results - The SportControl is one of a few mid range brands to actually feature in group tests, in one test beating the Pirelli P Zero, Toyo T1 Sport and Kumho KU39 and in another beating the award winning Vredestein Ultrac Cento.

3) Familiarity - The SportControl looks suspiciously like the recently replaced Goodyear Eagle F1 Asymmetric.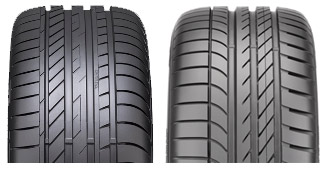 With Fulda being part of the Goodyear Dunlop brand, and the Fulda SportControl both looking and feeling like the original Goodyear Eagle F1 Asymmetric, could the Fulda Sport Control be the ultimate performance bargain? To test our theory we've recently had a set of SportControls fitted to a test vehicle and will be reporting back once we've put some good miles on them. Initial impressions are that, somewhat unsurprisingly, it seems to do everything the original Asymmetric did...

Further Reading:

Full press release
Fulda, one of Germany's leading tire brands, is proud to announce the launch of its new ultra-high performance (UHP) summer tire, the SportControl - the tire that delivers value for money without compromise on performance or quality.
With its functional design featuring progressive humps, the new Fulda SportControl delivers controlled sporty driving. The full silica tread compound and new 'Aqua Flow' tread grooves provide enhanced grip and shorter braking distances in wet conditions. A modern low weight carcass reduces the rolling resistance thereby decreasing fuel consumption and CO2 emissions.
Controlled sporty driving.
As the only four points of contact between a vehicle and the road, tires play a crucial role in helping a driver stay in full control. The new Fulda SportControl features a functional design with progressive humps throughout the width of the tread, which ensures an optimal stiffness throughout the tread and a maximized force distribution from tire to road, offering drivers significantly better grip and handling, especially during cornering.
Excellent control in wet conditions.
Every driver knows that wet-weather driving can be extra challenging. Poor visibility, longer stopping distances and unexpected heavy downpours can make wet weather driving hazardous. The Fulda SportControl features a full silica tread compound with Multiple AquaFlow grooves for optimal water absorption and dispersion to ensure optimal grip in wet weather conditions.
Reduced fuel consumption.
The Fulda SportControl is the ideal tire for the smart tire buyer who wants a product that delivers value-for-money over its entire lifetime. With its low rolling resistance engineered compound technology and low weight construction, the SportControl offers a tire that has less energy loss through deformation and therefore also less heat generation. The result? Reduced fuel consumption.
Cruise with peace of mind.
Today's value-conscious driver demands a quality tire that can go the extra mile. With it's clever combination of tire construction and a tread design that delivers an optimized footprint and excellent pressure distribution, the Fulda SportControl wears evenly over time, resulting in a comfortable ride with low noise emission and higher mileage levels.
"We are enormously proud of the performance of the new Fulda SportControl UHP tire," says Alain Klepper, Brand Director Fulda Europe, Middle East and Africa. The ultra-high performance tire segment remains one of the fastest growing tire segments in Europe. With the new SportControl we reconfirm Fulda's long-standing reputation of delivering quality, German-engineered tires."
Independently tested.
Independent testing organization TÜV SÜD Automotive tested the Fulda SportControl in November 2010 bringing back an excellent score card: an average 3 meters shorter braking distance on wet and an average 14% better rolling resistance than competing tires.
The Fulda SportControl is available in a wide range of sizes.
55 Profile:
205/55R16 91W
215/55R16 93W
225/55R16 95W
225/55R17 101W XL
50 Profile:
205/50R16 87W
205/50R17 93W XL
225/50R16 92W
45 Profile:
205/45R16 83W
215/45R17 91Y XL
225/45R17 91Y
225/45R17 94Y XL
235/45R17 94Y
235/45R17 97Y XL
40 Profile:
205/40R17 84W XL
215/40R17 87Y XL
225/40R18 92Y XL
235/40R18 91Y
235/40R18 95Y XL
245/40R17 95Y XL
245/40R18 97Y XL
35 Profile:
235/35R19 91Y XL
225/35R19 88Y XL
255/35R18 94Y XL
255/35R19 96Y XL
265/35R18 97Y XL
30 Profile:
265/30R19 93Y XL
Further Tyre Information