GT Radial Savero SUV - Launched
Giti Tire might just be the largest tyre manufacturer you've never heard of. Ranking in the top 10 of global tyre production, GiTi Tire manufacturer under the GT Radial, Primewell and Runway brands, with the leading of the three brands being GT Radial. The company boasts 33,000 employees globally, and has four research and development centres, which makes GiTi Tire first Chinese brand to be attacking the established brands properly, and are already winning OE fitments around the globe.

The latest tyre from this quickly-improving brand is the GT Radial Savero SUV. This new tyre targets the vast crossover SUV market, which is now the 3rd most popular car type in Europe, and characterised largely by smaller SUV vehicles such as the BMW X3 which look like 4x4's, but rarely see anything more than tarmac and wet grass. With such a huge market share, it makes sense to put a lot of effort into a new tyre for this segment.
Development
When developing the new Savero SUV, GiTi focused on a premium road driving experience. This tyre isn't intended to be run off road, but has been designed to give excellent handling, short wet braking distances, a low rolling resistance, and a high level of comfort.

In order to achieve this, the new tyre relies on tried and tested premium design features. The tread pattern has four wide longitudinal grooves to help with wet performance, small tread blocks with lateral sipes to achieve low road noise, and stiff ribs and shoulders for optimum braking and handling performance.
The Performance
So, how does this Chinese tyre stack up? Looking at the independant test, and our own driving experience of the tyre, admirably.
Giti aren't claiming the new GT Radial Savero SUV will be the best tyre on the market, but that it will offer broadly similar performance to a previous generation premium manufacturer tyre, for a fraction of the cost.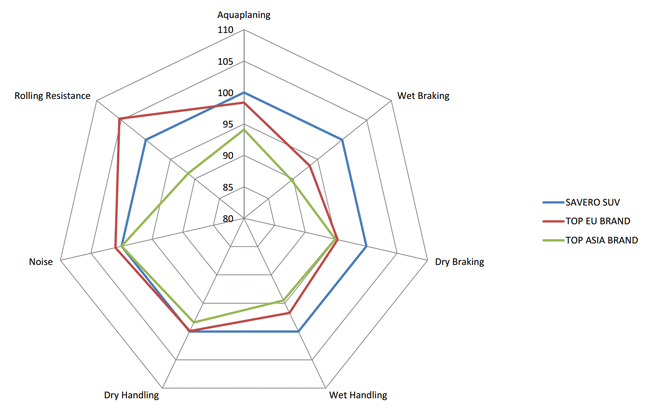 When compared to a top EU and Asia brand by a leading independent German test body, the Savaro SUV either equalled or bettered the competitor tyres in aquaplaning and wet and dry braking and handling, only leaving rolling resistance and noise trailing by a small amount.
Unfortunately during our testing of the new tyre, we didn't get chance to make a direct comparison of a different tyre on the same vehicle, but during normal road driving it felt assured, comfortable and grippy, and when we treated our Ford Kuga to a little extreme offroading, the Savaro SUV proved that it's a durable tyre by soaking up near suspension braking punishment with ease!

Conclusion
While the GT Radial Savero SUV might not be as complete a tyre as the latest Michelin or Continental offerings, it promises to deliver 90% of the performance at 65% of the price. If you choose to fit a lower priced tyre to your crossover SUV, this might just be the tyre to fit.
The Savero SUV is initially available in 23 sizes covering over 90% of the SUV market, and starts at around £60 for 215/65 R16.
Further Reading
Further Tyre Information