Goodyear Eagle F1 Asymmetric 3 - Launched
The most popular tyre on TyreReviews has finally been replaced!

Launched in February 2011, the Goodyear Eagle F1 Asymmetric 2 is the most reviewed tyre on TyreReviews, and has stood the test of time well. The creatively named replacement, the Goodyear Eagle F1 Asymmetric 3 promises to move the game on in every area, but in particular is boasting much improved wet and dry braking, lower fuel consumption and vastly better wear characteristics.
The Launch
Sadly Goodyear decided not to launch the tyre to the press with a traditional track event, so we've yet to drive on the new rubber. Instead the Asymmetric 3 was launched via a very informative webinar format, which can be watched in its entirety here. Be warned, while is covers the Asymmetric 3 in great detail, at over 45 minutes long it's only a good watch for the biggest of tyre geeks!
Instead of giving automotive journalists the chance to test the tyre directly, Goodyear have engaged the industry leading test body TUV to test the new tyre against three leading competitors. The competitors chosen were the Michelin Pilot Sport 3, Bridgestone Potenza S001 and Continental Sport Contact 5, and all tests were carried out in 225/45 R17 91Y on a VW Golf. When compared to the average of the three premium competitors, the new Goodyear Eagle F1 Asymmetric 3 had:
2.6 meters shorter braking distance on wet roads, or 9% better performance
1.3 meters shorter braking distance on dry roads, or 4% better performance
4% better wet handling
10.9 % better rolling resistance than the average of leading competitors
31% better tread wear performance compared to the three main competitors (DEKRA test)
To achieve these results Goodyear have a number of new technologies in the tyre, including Active Braking, Grip Booster and Reinforced Construction, videos of which can be watched on our Goodyear Eagle F1 Asymmetric 3 YouTube playlist.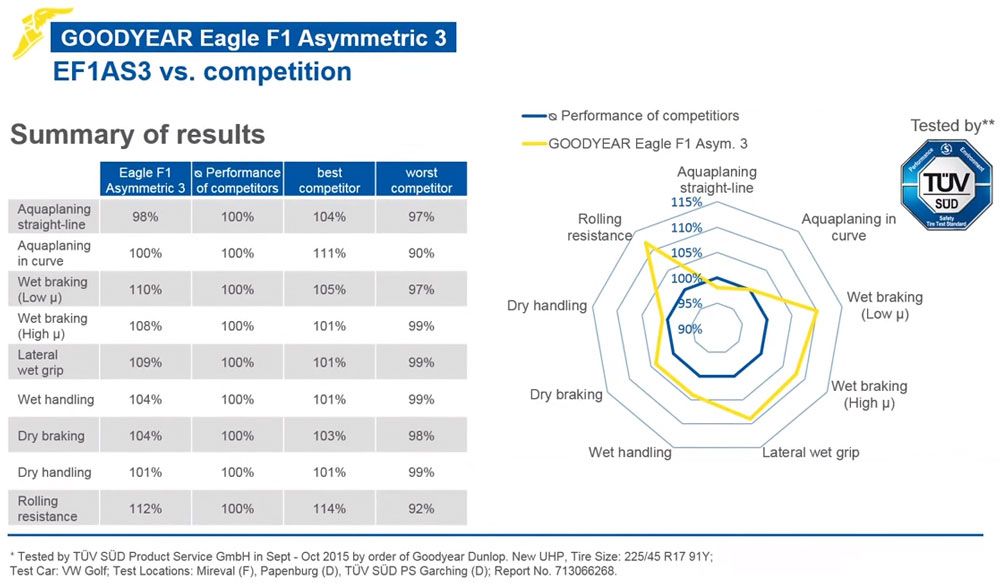 The Reviews
While we've not had the opportunity to drive on the new tyre, you have! At the time of writing, TyreReviews already has ten user reviews for the Asymmetric 3, which are all overwhelmingly positive. The new Goodyear has also featured in a magazine group test, finishing a strong second place.
We hope to be able to spend some time on the new Eagle F1 Asymmetric 3 before the summer is out, but from the initial testing, the new Goodyear looks to be an excellent addition to the strong UHP releases in 2016.
The Goodyear Eagle F1 Asymmetric 3 will be sold in 17 to 20 inches, covering 41 sizes. The tyre will be on the market in certain sizes now, with the majority of sizes on sale by March 2016 and will cost the same as the outgoing Asymmetric 2. Runflat versions will be available later in 2016.
Further Tyre Information