Goodyear UltraGrip 8 launched - with 3D technology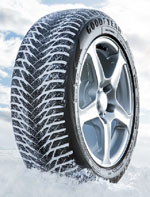 The Goodyear UltraGrip 8 has been launched by Goodyear and is the successor to the hugely popular UltraGrip 7+. As you'd expect, the Goodyear Ultragrip 8 is loaded with new tyre technology, the most interesting of which is the 3D Block Interlocking System technology (3D-BIS).

Independent test body TUV tested the Goodyear UltraGrip 8 against two leading competitors and found it to offer 4% shorter braking in the wet, 3% shorter braking in the snow, 5% more traction on snow and most relevant to the UK climate, 16% more resistance to aquaplaning on curved roads.
The 3D technology
The 3D block interlocking system is Goodyears interesting answer to the trade off needed for winter tyres. To offer traction and grip in snow and ice conditions, winter tyres need the maximum number of sipes available to grip the snow, however extra sipes comes at a price - block movement resulting in poor feedback on dry and wet roads.
Goodyears 3D-BIT system uses a waffle pattern of raised pyramids and holes of rubber inside the sipes. These enable the tyre blocks lock together when they come into contact with the road, stiffening the tread pattern resulting in much improved steering response on dry and wet roads.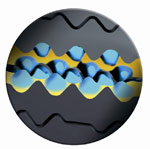 Keep an eye on Tyre Reviews over the coming days for further information on the Goodyear UltraGrip 8. For now, here's the full press release.
Links:
-
Goodyear UltraGrip 8
-
Goodyear UltraGrip 7+
-
Goodyear Tyres
-
Goodyear (external)
Goodyear Ultra Grip 8 press release: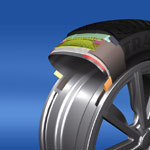 Goodyear launches new UltraGrip 8 winter tyre.
The first directional tyre with 3D-BIS Technology throughout the entire tread pattern for more grip and shorter braking distances.
Seville, Spain, February 7th, 2011 - Goodyear, one of the world's leading tyre companies, is proud to introduce the new UltraGrip 8 - the first directional tyre with Goodyear's patented 3D-BIS (Block Interlocking System) Technology throughout the entire tread pattern. Goodyear's innovative technology ensures the new UltraGrip 8 answers the most pressing needs of drivers in a winter tyre: more grip and shorter braking distances, as well as improved braking and handling.
Performance tests run by German TÜV SÜD Automotive1, one of Europe's leading testing and certification organizations, prove that the new Goodyear UltraGrip 8 provides 3% better snow and 3% better wet performance, with
- 4% shorter braking distance on wet roads (on low friction asphalt)
- 16% more resistance to aquaplaning on curved wet roads,
- 3% shorter braking distance on snow,
- 5% more traction grip on snow.
(Compared to the average performance of two leading competitors, braking distance on wet on low friction asphalt from 80km/h to 20 km/h, on snow from 50km/h to 5 km/h, measured by TÜV SÜD Automotive in December 2010; Tyre Size: 205/55R16 91H; Test Car: Golf VI; Location: Ivalo (FIN), Montpellier ice rink (FR), Mireval (FR); Report nr: 76244609.)
"4% shorter braking distance on wet roads versus leading competitors in the market translated into meters means 1,6 meters which is a significant advantage. Being able to stop with your car more than one meter earlier is an enormous safety benefit in an emergency braking situation," explains Hugues Despres, Goodyear Consumer Brand Director, Europe Middle East and Africa.
UltraGrip 8: standing on the shoulder of giants.
The new Goodyear UltraGrip 8 builds on the outstanding performance results of its predecessor, the UltraGrip 7+, which received high praise for its performance from many leading international testing organizations and auto magazines including ADAC, Autobild, Auto Motor und Sport and Auto Express, Britain's biggest selling car magazine, which declared the tyre "the safest tyre for the coming months" last winter. Goodyear's UltraGrip winter tyres are one of the most successful winter tyre families ever, with excellent results in dozens of winter tyre tests since the introduction of the first UltraGrip.
Excellent performance in all winter weather conditions.
Winter is one of the most challenging times for drivers. Temperatures are low and road conditions can vary greatly, with swift changes from dry to wet and snow or unexpected icy conditions. A winter tyre needs to perform well under all these conditions. The new UltraGrip 8 combines a number of innovative technologies that enable it to deliver top performance under a wide variety of winter conditions.
3D-BIS Technology.
The UltraGrip 8 is the first directional tyre using the latest generation of Goodyear's highly effective 3D-BIS Technology throughout the entire tread pattern.
Goodyear's patented Three-Dimensional Block Interlocking System (3D-BIS) allows an increased number of sipes in the tyre's tread. The more sipes, the better the grip: A high sipe density gives extra grip on ice and snow because sipes provide edges which literally bite into the snow and ice for strong grip and traction as they open up before coming into road surface contact. To provide excellent handling and braking performance on both wet and dry roads however, the blocks need to be stiff and solid. For this Goodyear engineers have developed the '3D Interlocking Effect' of the sipes. Inside each sipe, the walls have raised pyramids and holes. When the tread blocks come into contact with the road the sipes lock tightly thanks to this special waffle shape. This provides the required block stiffness for excellent handling and steering response on dry and wet roads.
Next generation tread compound.
The tread compound of the UltraGrip 8 combines the use of a functionalized polymer and of a traction resin. The former leads to an improved bonding to the silica thereby ensuring an optimized mileage and fuel efficiency while the latter ensures an outstanding grip on wet and dry roads. The maintained rubber elasticity at low temperatures is responsible for the excellent traction and handling on snow & ice.
Higher net contact area.
The new UltraGrip 8 also features a higher net contact area, which leads to an optimized footprint pressure distribution. The bigger contact patch of the tyre offers improved braking performance and more control in icy conditions.
New tread design.
Good performance in wet and slushy winter conditions is imperative in a winter tyre. With its full depth directional V-grooves, the UltraGrip 8 cuts through snow, slush and water to deliver improved water and slush evacuation. The double V-groove design - one V-groove for evacuating water and one for gripping snow - ensures that the tyre provides top grip in various winter conditions.
The improved side gripping grooves, with their high number of biting edges, give the tyre better side grip on both snow and wet.
Light weight carcass structure.
With its light weight carcass structure and low rolling resistance carcass compounds, the UltraGrip 8 delivers optimized fuel economy and CO2 emission levels.
"Excellent performance on safety parameters such as handling and braking are key requirements in the development of all Goodyear's products. As with all our tyres, we subjected the UltraGrip 8 to extensive and stringent performance tests," says Despres. "We are proud to introduce a new winter tyre that builds further on the long history of the UltraGrip family's successful track record. Winter is a challenging time for all road users and it's absolutely important that cars are equipped with highly effective winter tyres that ensure top levels of performance at cold temperatures and in all kinds of winter weather conditions," says Despres.
Available in various sizes
In time for the next winter season, the UltraGrip 8 will be available in sizes to suit the vast majority of family cars.
The UltraGrip 8 is available in the following sizes: 70 155 / 70 R 13 75 T
165 / 70 R 13 79 T
165 / 70 R 14 81 T
165 / 70 R 14 XL 85 T
165 / 70 R 14C 89/87 R
175 / 70 R 13 82 T
175 / 70 R 14 84 T
175 / 70 R 14 XL 88 T
185 / 70 R 14 88 T
65
155 / 65 R 14 75 T
165 / 65 R 14 79 T
165 / 65 R 15 81 T
175 / 65 R 14 82 T
175 / 65 R 14 XL 86 T
175 / 65 R 15 XL 88 T
175 / 65 R 14C 90/88 T
185 / 65 R 14 86 T
185 / 65 R 15 88 T
195 / 65 R 15 91 T
195 / 65 R 15 XL 95 T
195 / 65 R 15 91 H
205 / 65 R 15 94 H
205 / 65 R 15 94 T
215 / 65 R 16 98 H
60
175 / 60 R 15 81 T
185 / 60 R 14 82 T
185 / 60 R 15 84 T
185 / 60 R 15 XL 88 T
195 / 60 R 15 88 T
195 / 60 R 16 89 H
195 / 60 R 16C 99/97 T
205 / 60 R 15 91 T
205 / 60 R 15 91 H
205 / 60 R 16 92 H
205 / 60 R 16 XL 96 H
55
185 / 55 R 15 82 T
185 / 55 R 16 XL 87 T
195 / 55 R 16 87 T
195 / 55 R 16 87 H
195 / 55 R 16 87 H ROF
205 / 55 R 16 91 T
205 / 55 R 16 91 H
205 / 55 R 16 XL 94 H
Further Tyre Information