Goodyear UltraGrip Performance Gen 1 - Preview
Development
The new UltraGrip Performance tyre is the second winter tyre to take advantage of Goodyears incredible new winter testing facility in Finland. Just south of Ivalo, and firmly in the arctic circle, the new Goodyear testing ground is state of the art and includes 2 snow handling tracks, a large snow and ice flat, an ice handling circuit and many other test stations. With the introduction of this new winter testing facility, and the continued use of Goodyear's testing facility is the South of France, Goodyear are confident this new winter tyre will offer the best balance of qualities over its premium rivals
Testing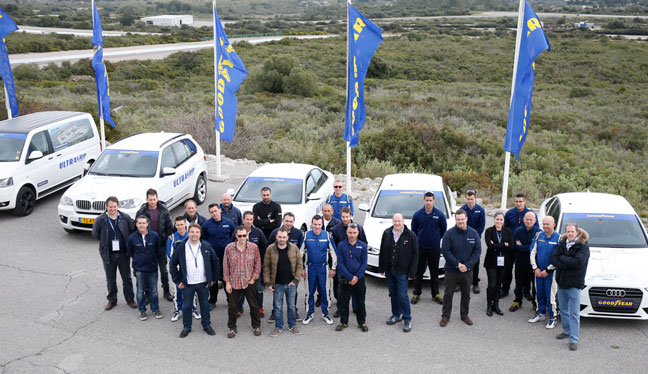 So confident of the tyres ability, Goodyear invited Tyre Reviews to test the new tyre VS two premium competitors, the
Bridgestone Blizzak LM32S
and the
Pirelli SottoZero 3
across two days, on a Audi a4 TFSI Gen 8 wearing 225/50 R17 98V XL tyres.
Day one was dedicated to wet and dry testing. During the wet testing, the Goodyear shone compared to the Bridgestone, offering a much better balance in the wet, and a much more friendly, progressive nature on the limit. It was a similar story in the dry, with the Goodyear offering a little more grip, and a much friendlier balance to the Bridgestone. The Pirelli was closer in both conditions than the Bridgestone managed, but the Goodyear was the best balanced and most usable overall. The objective curved aquaplaning tests and wet braking tests were compared only to the Bridgestone, but the gap was large, with the Goodyear aquaplaning on average 5.67 meters less than the Bridgestone in an 8mm puddle at 80kph, and stopping 4.87 meters shorter under wet braking from 80kph.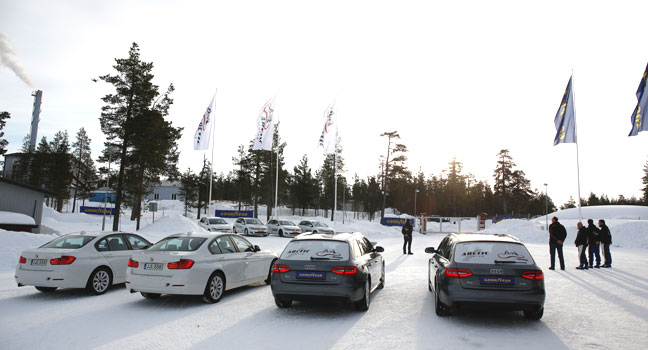 Day two was spent snow and ice testing, and this is where the balance, all-round nature of the tyre was really displayed. In both snow and ice the performance of the competitors was reversed, the Bridgestone out performed the Pirelli, but the Goodyear out performed them both, once again showing a wonderful balance and and controllability at the limit on the Audi A4 test vehicles. It's important to remember that the best tyre might not be the tyre with 1% higher grip, but the tyre which behaves progressively and predictably once at the limit of grip so in the event of an emergency manurer, you have a predictable car to work with.
Conculsion
Soon we will publish a full test report, and much more technical data on the new tyre. Available from September 2015 in 38 sizes for both the car and SUV ranging from 16 to 21 inches, the new Goodyear UltraGrip Performance Gen-1 looks to be the current king of the latest breed of performance winter tyres.
Further Tyre Information