Michelin Alpin 5 - Launched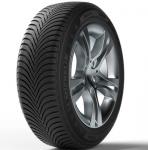 The Michelin Alpin 5 has been launched, replacing the Alpin 4, Michelins award winning premium touring winter tyre.
Aimed at the premium touring segment, the Alpin 5 has been launched in 27 different sizes, from 195/65 R15 to 225/55 R17. The Pilot Alpin range continues to cover the larger / high performance sizes, with the Michelin Pilot Alpin 4 available in sizes 17 inches and above.
Accidentology
As with the Primacy 3, Michelin have invested more time and research budget to studying real world accidents than any other tyre company, and have based the performance of the new Alpin 5 on the results of these investigations.
During winter months, the percentage of accidents on different road types are 58% dry, 35% wet and 8% snowy roads. While snow covered roads only account for a small percentage of the overall winter accidents, you're 5 times more likely to have an accident in the snow based on identical distances travelled, but with 92% of winter accidents occouring on normal roads, the wet and dry performance of a winter tyre is equally as important.
The Tyre
Thanks to a number of new technologies, the new Michelin Alpin 5 improves on the outgoing Alpin 4 in every area other than dry handling, which it equals.
The new tread pattern provides a void ratio 17% higher than the A4 to improve snow and wet performance, there are 16% more sipes to improve snow and ice grip, yet the tyre still retains block stiffness to help dry handling thanks to its specially designed footprint with "stabiligrip" technology which creates self locking blocks.
Michelin is now on its 4th generation of winter compound, and has added functional elastomers for the first time. Based around sunflour oil, the new functional elastomers allow the compound to use a higher proportion of silica without losing the uniformity of properties in the compound. This allows the tyre to function well at much lower temperatures, but still remain strong enough to cope with higher temperatures.
The Drive
During the launch we were given a mix of cars to try the new Alpin 5, from small hatches like the Volvo V40, to the large and heavy BMW 3 Series GT. The tyre performed flawlessly, and on warm dry and wet roads (7c+) felt more like a summer tyre than a winter tyre, which is the highest compliment you can pay a winter tyre in the dry! When testing at slightly cooler temperatures, it had the clear grip edge over the summer Michelin Primacy 3 in the wet.
The right tyre for the right conditions
Despite the Alpin 5 having an all round flawless performance, Michelin are still a big promoter of using the right tyre for the right season. Their video below highlights that, while the Alpin 5 would make for one of the better "year round" winter tyres, it's still safer to have dedicated cold and warm weather tyres.
Further Tyre Information