Michelin Launch the Michelin Pilot Sport 3
So, one of our all time favourite tyres, and arguably the tyre that first got us into rubber has had a facelift! With big expectations the Michelin Pilot Sport 3 certainly has a lot to live up to. Lets see what's new...
Well, the tread pattern is new, but only very slightly. The original
Pilot Sport
had the old school aggressive directional tread pattern, but with the introduction of the the
Pilot Sport 2
came a new asymmetric design. The
Pilot Sport 3
continues this by slightly altering the snipe pattern, but very little else.
TUV have tested the tyre back with the Pilot Sport 2 and found the new tyre has "Better road-holding in bends and three metres shorter braking distance on wet roads", which is a significant change in wet performance. To help us understand better Michelin have published this neat little graph to show the improvements over the PS2.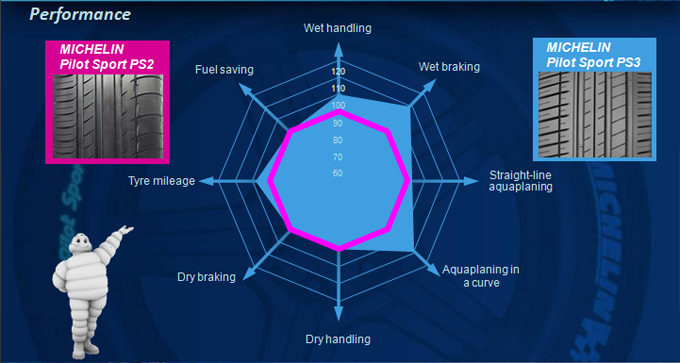 Here at tyrereviews we can't wait to get our hands on a set for a long term test. If anyone from Michelin happens to be reading, please feel free to drop us an email! If you have any experience with the PS3 then please head over to our
Michelin Pilot Sport 3 review page
and let the world know how good (or bad!) they are.
Michelin Pilot Sport 3 sizes released on the 1st January 2010 are:
225/45 ZR17 91Y
225/40 ZR18 92Y XL
225/40 ZR18 92W XL
225/45 ZR17 94W XL
235/40 ZR18 95Y XL
235/45 ZR17 97Y XL
245/40 ZR17 91Y
245/40 ZR18 97Y XL
245/45 ZR17 99Y XL
255/35 ZR18 94Y XL
265/35 ZR18 97Y XL
255/40 ZR19 100Y XL
275/35 ZR18 99Y XL
275/40 ZR19 101Y XL
245/40 ZR19 98Y XL
255/40 ZR18 99Y XL MO1
285/35 ZR18 101Y XL MO1
255/35 ZR19 96Y AO
Michelin Pilot Sport 3 sizes to be released between July 2010 and October 2010 are:
205/40 R17 84W XL
225/45 R17 94Y XL
205/45 R16 83V
205/45 R16 87W XL
195/45 R16 84V XL
205/55 R16 91W
205/45 R17 88W XL
205/50 R17 93W XL
205/50 R16 87V