Michelin Pilot Sport 4 - Press Release
With the Continental Sport Contact 6 already launched, and the Goodyear Eagle F1 Asymmetric 3 announced, 2016 is shaping up to be a really exciting year for performance tyres.
Next up, the Michelin Pilot Sport 4. Many people felt the Pilot Sport name lost its direction as the Michelin Pilot Sport 3 didn't replace the Pilot Sport 2, but the slightly more touring bias Pilot Exalto 2. The true replacement for the Pilot Sport 2 came in the shape of the well regarded Michelin Pilot Super Sport.
With the launch of the Pilot Sport 4, Michelin are aiming to get the Pilot Sport name back on track. The new tyre borrows lessons learnt from both the Pilot Super Sport, and Michelins involvement with the Formula E race series. This has resulted in a tyre which has a much more performance focus than the Pilot Sport 3, but still retails excellent tread life, a strong wet performance and the good levels of comfort we've come to expect from a premium tyre.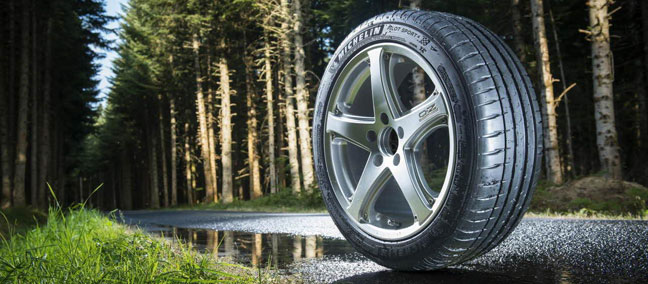 Launching initially in 17" and 18" at the start of 2016, with 19" due later in 2016 and early 2017, expect the new Michelin Pilot sport 4 to perform extremely well in the group tests this year.
As for the fate of the much loved Pilot Super Sport? This tyre will continue to sit above the Pilot Sport 4, catering to those of us who want an even higher level of performance in 19 inches and above.
Full Pilot Sport 4 Press Release
The new MICHELIN Pilot Sport 4 tyre, solving the pleasure and safety equation
For drivers of saloons and sports cars, for pleasure and thrill seekers, the new MICHELIN Pilot Sport 4 is the ideal tyre for both pleasure and safety.
The technological innovations on the ultra-responsive tread of the new tyre come from Michelin's experience in racing, including Formula E. It constantly adapts to the road, thanks to clever mastery of the dynamic interactions between the architecture, tread pattern, and materials, which results in optimal management of the contact patch.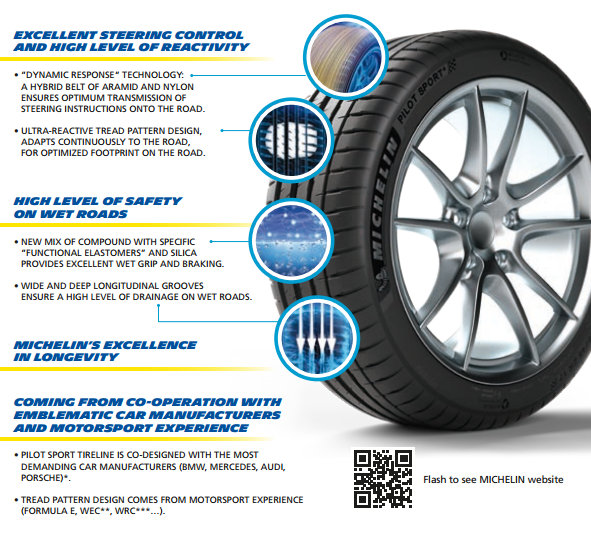 The performance innovations on the new MICHELIN Pilot Sport 4:
Highly responsive precision driving: the new "Dynamic Response" technology consists of a belt with hybrid aramid and nylon reinforcement that ensures optimal directional control. With a high density, extremely tension resistant and particularly lightweight fibre (five times more durable than steel), centrifugal force at high speeds is perfectly controlled and the tyre contact patch remains constant, even at high speed.
Safety and braking on wet surfaces: high-level performance is achieved through a new very homogeneous tread compound mix including functional elastomers A functional elastomer is an elastomer which improves the distribution of the silica within the rubber mixture and reinforces its action. and fine silica. In addition wide, deep longitudinal grooves provide efficient water evacuation on wet roads. This new mixture also improves the tyre's longevity and fuel efficiency.
Launch Sizes
SERIES 45
205/45 ZR 17 (88Y) XL PILOT SPORT 4 149173 E A b ≤ 71 dB January-16
215/45 ZR 17 (91Y) XL PILOT SPORT 4 795291 E A b ≤ 71 dB January-16
225/45 ZR 17 94W XL PILOT SPORT 4 727810 C A b ≤ 71 dB January-16
225/45 ZR 17 (94Y) XL PILOT SPORT 4 478670 C A b ≤ 71 dB January-16
235/45 ZR 17 (97Y) XL PILOT SPORT 4 710920 C A b ≤ 71 dB January-16
245/45 ZR 17 (99Y) XL PILOT SPORT 4 518047 C A b ≤ 71 dB January-16
225/45 ZR 18 (95Y) XL PILOT SPORT 4 413756 C A b ≤ 71 dB January-16
245/45 ZR 18 (100Y)* XL PILOT SPORT 4 773625 C A b ≤ 71 dB January-16
SERIES 40
245/40 ZR 17 (95Y) XL PILOT SPORT 4 736885 E A b ≤ 71 dB January-16
215/40 ZR 18 (89Y) XL PILOT SPORT 4 112030 C A b ≤ 71 dB January-16
225/40 ZR 18 92W XL PILOT SPORT 4 544969 C A b ≤ 71 dB January-16
225/40 ZR 18 (92Y) XL PILOT SPORT 4 674619 C A b ≤ 71 dB January-16
235/40 ZR 18 (95Y) XL PILOT SPORT 4 542695 C A b ≤ 71 dB January-16
245/40 ZR 18 (97Y) XL PILOT SPORT 4 545550 C A b ≤ 71 dB January-16
255/40 ZR 18 (99Y) XL PILOT SPORT 4 792796 C A b ≤ 71 dB Mid 2016
SERIES 35
255/35 ZR 18 (94Y) XL PILOT SPORT 4 796573 C A b ≤ 71 dB January-16
265/35 ZR 18 (97Y) XL PILOT SPORT 4 615912 C A b ≤ 71 dB January-16
275/35 ZR 18 (99Y) XL PILOT SPORT 4 286893 C A b ≤ 71 dB January-16
255/35 ZR 19 (96Y) XL PILOT SPORT 4 133870 C A b ≤ 71 dB March-16
Further Tyre Information