Michelin Primacy 3 - Launched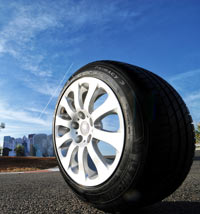 Michelin have just launched their new premium touring tyre, the Michelin Primacy 3. Developed to replace the excellent Michelin Primacy HP, the tyre has been developed with safety, wear and comfort in mind.

During development of the Primacy 3, Michelin teamed up with the accident research centre VUFO which specialises in acidentolgy - the research of accidents. VUFO researched over 20,000 seperate accidents over the space of 10 years, and in doing so, provided Michelin with some interesting statistics and facts about accidents.
70% accidents happen on dry roads
60% accidents happen in urban areas at low speed
75% of accidents happen on straight roads
99% of accidents on wet roads happen when there's very little water depth
25% of accidents happen on bends, 50% of which happen when it's wet. While this is a relatively low percentage of the overall accidents, it is the group of accidents with the highest damage and most casualties
By understanding accidents, Michelin could steer the development of the Primacy 3 to ensure it was a better real world tyre.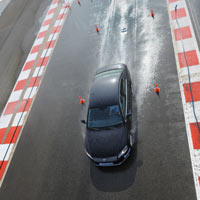 Testing
During development of the Primacy 3 Michelin covered over 20 million kilomemters of real world testing in all conditions to ensure the tyre worked on all manor of surfaces and on different types of vehicles.
Once the final specification Primacy 3 was developed, the tyre was handed over to independent testing body TUV to test against 4 leading competitors. In a thorough array of TUV tests, the new Primacy 3 was benchmarked against the
Continental Premium Contact 2
,
Bridgestone ER300 Ecopia
,
Pirelli P7
and
Goodyear Effecient grip
.
The results? Impressive. With over 70% of accidents happening on dry, straight roads, dry braking was Michelin's top priority, but is also one of the hardest areas to improve on. TUV found that the new Michelin Primacy 3:
Under dry braking stopped on average 2.2 metres shorter from 100kmh than the 4 leading competitors
Under wet braking stopped on average 1.5 metres shorter from 100kmh than the 4 leading competitors
Allowed for the highest wet cornering speeds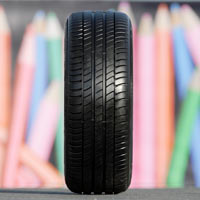 The Technology
Michelin introduced several new concepts with Primacy 3, the most important of which is the interlocking "auto blocking" micro sipes. These small cuts in the tyre, just 2/10th of a millimeter wide (over 20% smaller than winter tyre sipes) lock together during compression allowing Michelin to use a softer compound for the tyre while maintaining logevity and structural stiffness in the dry. They also help tyre wear, as it manages how the blocks enter and exit the compression phase.
Auto blocking sipes during dry braking:
Auto blocking sipes during wet cornering:
Sizes
The Michelin Primacy 3 will be launched in 38 key sizes:
185/60/15 84 H
185/65/15 88 H
195/65/15 91 H
195/65/15 91 V
205/55/16 91 V
205/55/16 91 W
205/60/16 96 W
215/55/16 93 V
215/55/16 93 W
215/55/16 97 H
215/55/16 97 V
215/55/16 97 W
225/55/16 95 V
225/55/16 95 W
225/55/16 99 W
205/50/17 89 V
205/50/17 89 W
215/50/17 95 W
215/50/17 91 W
215/55/17 94 W
225/45/17 91 W
225/45/17 94 V
225/45/17 94 W
225/50/17 94 V
225/50/17 98 V
225/50/17 98 W
225/50/17 98 Y
225/55/17 101 W
225/55/17 97 W
235/45/17 94 W
235/45/17 94 Y
235/45/17 97 W
235/55/17 103 Y
235/55/17 99 V
245/45/17 99 W
245/45/17 99 Y
235/45/18 98 W
245/45/18 100 W
User Reviews
Further Tyre Information