Part Worn Tyres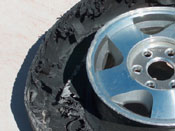 Part worn tyres create a lot of debate around the internet, and any thread started usually turns into a heated debate between the positives and negatives of part worn tyres.
The positive group recommend part worn tyre as excellent value, often citing the fact they're "shipped in from the continent where the tread depth laws are different" and swear they're good value for money. The negative group are rather more conservative and question a number of interesting points... Why perfectly good tyre were taken off a vehicle? What sort of accident could the car have been involved in (and resulting damage to the tyres)? How can you be certain the tyre isn't damaged in ways that can't be seen by the naked eye?
Unfortunately neither side ever back down, and there's usually very little research to cite for either side.
Thankfully, this year Birmingham Trading Standards have done a little research for us with some alarming results. Birmingham Trading Standards found that 90% of the part-worn tyres tested failed to meet minimum legal requirements, with issues ranging from embedded nails, illegal tread depth, exposed cords, inadequate sidewall markings and one tyre which was 17 years old.
Unfortunately Birmingham Trading Standards sample wasn't exhaustive, only buying ten tyres and then only sending six of them to TyreSafe for further tests. Interestingly, of the six tyres sent to TyreSafe every tyre x-rayed showed signs of impact damage which could result in unstable stress points and a resulting blowout.
While we'd have liked to see a bigger sample set of tyres, the most important finding from this research is that
6 out of the 6
part worn tyres x-rayed had internal damage that
could not be detected by normal inspections or seen by the naked eye.
Call us old fashioned, but that's an excellent reason to be extremely cautious when buying part worn tyres.
The law says all second hand tyres must be permanently marked as part worn, they must have at least 2mm of tread depth around the whole tyre and the original tread must be clearly visible in their entirety. Any repairs to the tyre must have been carried out in accordance with British Standards BS AU 159.
What's your experiences? Comments below