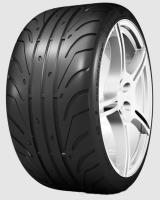 The Accelera 651 Sport is a Trackday and Competition Summer tyre designed to be fitted to Passenger Car
Show All
Tyre review data from 7 tyre reviews averaging 78% over 23,500 miles driven.
Sorry, we don't currently have any magazine tyre tests for the Accelera 651 Sport
Sorry, we don't currently have any label data for the Accelera 651 Sport
Sorry, we don't currently have any questions and answers for the Accelera 651 Sport. Why not submit a question to our tyre experts using the form below!
Ask a question
We will never publish or share your email address
Top Accelera 651 Sport Review
Given
90%
while driving a
SEAT Leon Cupra
(235/35 R19) on
mostly motorways
for 8,000
average
miles
very good grip treadware 100 do the job and i will buy again
Latest Accelera 651 Sport Reviews
Have you driven on the Accelera 651 Sport tyre?
Please help millions of other drivers make an informed tyre choice and pick the correct tyres for their car by submitting your review of the 651 Sport.
Given
80%
while driving a
Suzuki swift sport
(195/50 R16) on
a combination of roads
for 0
average
miles
Drive up hill genting from first until petron gotong jaya got 4++minutes timing.
In highway drive reach 215kmh in conner from Genting Sempah to Gombak. Use NA 1.6cc twincam engine car only.
So I bought Accelera 651 Sport. Somewhere like EP tires Accelera 651 Sport. And I promised to post, so here it is.
To sum up, don't buy! And whoever wants to buy them, no matter what, and I prefer to break both hands before he clicks on.
 At http://www.tyrereviews.co.uk/Tyre/Accelera/651-Sport.htm they have a nice review, so I risked it, but I did. I put the tires on the rear axle, where I need to have strength and certainty, because the MX-5 rests mainly on the butt in the corners. When I bought unknown tires, I expected them to be able to slide more or not have a fixed sidewall, or they would be too hard to be noisy, or could disappear quickly - at worst they could have a tricky moment to slip. But I was naive, the EP tires of Accelera 651 Sport showed up as a semislick parody, perhaps as an amateur copy. What followed after the change I really did not expect.
 Already when they arrived, I was intrigued that they had a strange black and soft touch. The gaps were very wide. In fact, the inscriptions and the cut of the sample look quite amateurish as with any protector. Also, the tire profile is not as "square" as in Yokohama, and so the width of the interface is smaller. Well, but I bravely put them on and carefully set off on the road.
 Well I am cautious to napos..tý, because at low speeds, although a drop of rubber, but nicely glued, but over 90 kmh began to swim. Attention! On a dry flat road without tracks or anything. I just want to overtake on the plane and just the maneuver to the left and back my back swung so that my anti-skid and anti-skid system started to flicker. This is always the same, and even on the best road it is not possible to go straight over 120kmh - the car starts to swim and the orange angel on the deck flashes as runaway! Even on a straight ride, after a perfect journey, there is a sudden feeling that my bike has gone to the tracks and pulls, while trying to balance it, the back of the stall and the stabilization system hit - on the plane!
 I began to suspect that this was a totally different design from Yokohamas. Yokohamy is a solid tire with a touch-hard pattern that is soft as a parameter and simply has a perfect grip when heated. Therefore, Treadwear (UTQG) has only 200. However, this number does not mean quality. It just means the tire doesn't last as long as the one with UTQG 350. And here someone decided to abuse it. The tire looks like a semislick and has UTQG as a semislick, but it's not semislick. Rather, it looks like a soft winter blend with a summer pattern. The mixture is really soft to the touch, and at a new sample height of about 1cm (assuming) it simply starts to chew at higher speeds and the car rips uncontrollably from left to right. So the sidewall design is solid, but the sample is chewing.
 I even had my bicycles outweighed if it wasn't but everything was OK. Finally I put the new Accelera back and the old Yokohama back - and everything is OK again. I can go fast and safely again. I have already left for one season with the winter on my front and I like a softer front that bites the corner. In this feature, the Accelery is fine, better than the winters, more sticky. I just had to buy another, new Yokohama on my ass.
 EP tires Accelera 651 Sport, therefore, can not recommend driving over about 70 km / h. And the price is not even so low that I recommend them for some technical fooling at low speeds (drifts, small circuits), I do not even know it directly, but the 70kmh it went with them and stick stuck.


Given
97%
while driving a
Mazda MX5
(195/50 R16 W) on
a combination of roads
for 3,500
spirited
miles
Have these tyres fitted on my Mk2 MX5 1.8 trackday car, and I must say - I'm dead impressed by them especially considering the price point that they come in at.

As you would expect, dry grip is fantastic, a few thousand hard road miles and a full day on track at Snetterton have shown that they're a really comprehensive package on dry roads, and wear rates have been surprisingly low - unlike some semi slick tyres these ship with a decent amount of tread so there's plenty of life in them, which is a big advantage.

They're not massively loud on the road even in an MX5 which has about the same amount of sound deadening as a cold war era Russian fighter jet, and they offer great feedback even on bumpy country roads.

Where these tyres really surprise though, is in wet weather conditions. I hadn't driven my MX5 on semi slicks before these, and was impressed by my Nexen Nfera SU4s in terms of their ability to contain the back end of the car on greasy or wet roads. On my first rainy drive on these, I expected to fight the car through every corner and be battling for grip across the whole journey.

But no. I had extremely reasonable aquaplaning resistance, good cornering grip and didn't experience anything in the way of tram-lining or camber following. In fact, I found myself able to accelerate out of corners without the back end giving so much as a wobble, really really impressed with these in the wet.

Paid £46 a corner, which for semi slicks even in 195/50/16 is mentally cheap. Wouldn't even bother trying other tyres, have Toyo R888s on my RX7 daily and while they most likely offer a little better grip in the dry as a result of their increased contact patch, their sheer lack of ability in the wet makes them a far less convincing overall package unless you're chasing a couple of seconds a lap.

For a trackday hobbyist like myself though, the Accelera 651 Sport really does shine.
Given
90%
while driving a
SEAT Leon Cupra
(235/35 R19) on
mostly motorways
for 8,000
average
miles
very good grip treadware 100 do the job and i will buy again