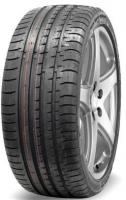 | Size | Fuel | Wet | Noise | Weight |
| --- | --- | --- | --- | --- |
| 225/35 R18 87Y XL | E | C | 72 | 9.00kgs |
| 245/35 R18 92Y XL | E | C | 72 | 11.00kgs |
| 205/40 R18 86Y | F | E | 74 | 9.00kgs |
| 235/45 R18 98Y XL | E | C | 72 | 11.00kgs |
| 245/45 R18 100Y | E | C | 72 | 12.00kgs |
| 235/50 R18 101Y | E | C | 72 | 12.00kgs |
| 255/35 R19 96Y | E | C | 72 | 12.00kgs |
| 255/35 R20 97Y | E | C | 72 | 12.00kgs |
| 245/40 R20 99Y | E | C | 72 | 12.00kgs |
Sorry, we don't currently have any questions and answers for the Accelera PHI R. Why not submit a question to our tyre experts using the form below!
Ask a question
We will never publish or share your email address
Top Accelera PHI R Review
Given
86%
while driving a
Peugeot 405
(205/60 R14 H) on
mostly country roads
for 0
spirited
miles
these are the best tires for my budget
Comfortable, good handling, good dry grip, and i cant hear any noise, and surely buy again.
Latest Accelera PHI R Reviews
Have you driven on the Accelera PHI R tyre?
Have YOU got experience with the Accelera PHI R? Help millions of other tyre buyers
I can't figure out why some other reviewers have such problems with these tyres, after 5 years on them ( 2 pairs of fronts) I have had absolutely no scary moments at all. Dry or wet. Even deep water on the motorway has never caused aquaplaning. This could of course be helped by the fact it is a 2.1 ton car, so plenty of weight on them!! And yes that's right I don't drive it like I did our Impreza. That has long since gone after twins arrived!. But it does get driven normally, not tootled about like you can kick your hat around faster. It handles perfectly well at any speed, and has on many occasions embarrassed people who reckoned they were going to dust the old people carrier - then they went backwards on the twisty bits and particularly a long fast curved motorway slip road near us. At 65mph, they come alongside thinking they'll pass, then they hit the brakes while I just carry on round. Really funny. Under extreme braking in the wet they have NEVER locked up, just as well or on one occasion the other car that pulled out would have lost the fight with 2100kg of American steel. For the money they are brilliant. I'm sure on different cars they will perform differently. We now have a 3.0 H6 Subaru Outback as well. I've pit them on that too. 4000 miles on and very very happy with how they work on it. I will replace them as they wear out. Same again, why change? On both cars.
Given
65%
while driving a
Mazda CX 3
(215/50 R18) on
a combination of roads
for 350
average
miles
Pretty good for a budget tyres. Comfort & silence. However, still early to judge. Only been using about 500 km. But my 1st impression for these tyres are not bad.
Given
97%
while driving a
Alfa Romeo Giulietta
(225/45 R17) on
a combination of roads
for 50,000
average
miles
This Tyre is making a very good job
Very good tire for the mid price