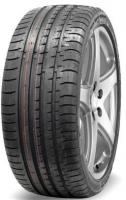 | Size | Fuel | Wet | Noise | Weight |
| --- | --- | --- | --- | --- |
| 225/35 R18 87Y XL | E | C | 72 | 9.00kgs |
| 245/35 R18 92Y XL | E | C | 72 | 11.00kgs |
| 205/40 R18 86Y | F | E | 74 | 9.00kgs |
| 235/45 R18 98Y XL | E | C | 72 | 11.00kgs |
| 245/45 R18 100Y | E | C | 72 | 12.00kgs |
| 235/50 R18 101Y | E | C | 72 | 12.00kgs |
| 255/35 R19 96Y | E | C | 72 | 12.00kgs |
| 255/35 R20 97Y | E | C | 72 | 12.00kgs |
| 245/40 R20 99Y | E | C | 72 | 12.00kgs |
Sorry, we don't currently have any questions and answers for the Accelera PHI R. Why not submit a question to our tyre experts using the form below!
Ask a question
We will never publish or share your email address
Top Accelera PHI R Review
Given
86%
while driving a
Peugeot 405
(205/60 R14 H) on
mostly country roads
for 0
spirited
miles
these are the best tires for my budget
Comfortable, good handling, good dry grip, and i cant hear any noise, and surely buy again.
Latest Accelera PHI R Reviews
Have you driven on the Accelera PHI R tyre?
Have YOU got experience with the Accelera PHI R? Help millions of other tyre buyers
Given
65%
while driving a
Mazda CX 3
(215/50 R18) on
a combination of roads
for 350
average
miles
Pretty good for a budget tyres. Comfort & silence. However, still early to judge. Only been using about 500 km. But my 1st impression for these tyres are not bad.
Given
97%
while driving a
Alfa Romeo Giulietta
(225/45 R17) on
a combination of roads
for 50,000
average
miles
This Tyre is making a very good job
Very good tire for the mid price
Skoda
(205/45 R16 W) on
a combination of roads
for 2
easy going
miles
My Skoda Fabia 1.9tdi was bought second hand eight months ago and came with these tyres fitted to the front.
I thought they were ok. However, I recently noticed some cracks begining to appear in the sidewalls and decided to keep an eye on them. A short while after, while carrying out a front brake inspection, I was shocked to find a deep crack all the way around the inner sidewall of one of the tyres. The other tyre just had a small (3cm long) crack in the outer sidewall. Strangely, I am unable to find a date stamp on them, but from what I can see in the cars service history, I believe they were fitted in 2017. 4mm of tread remain so in theory there should have been plenty of life left in them. Although only one tyre was badly affected I felt I couldn't risk the other tyre failing, so have had both tyres replaced with a different make. Coincidently, the tyre fitter said he had exactly the same problem with these tyres on his own vehicle after just a year. The company refunded his money.
I bought my car with these tyres fitted. The first thing I noticed was juddering from the tyres at speeds between 70 and 80, really inconvenient for motorway journeys. Had the balance and tracking checked but no improvement, it seems that the tread design on these tyres contributes to the effect.
The next thing I noticed, when trying to turn from a junction, on an incline, in damp conditions, was that the performance in the wet is shockingly bad. Lots of spinning, a bit of squealing but precious little forward motion. This was confirmed when having to brake more heavily than usual on the approach to a roundabout in the rain. The tyres had virtually no grip, causing the car to slide even with ABS activating. It is possible to drive more cautiously in the wet, as I'm sure some readers will suggest, but there is always the risk of having to brake unexpectedly and I would not trust these tyres to keep me safe.
I will be replacing them with something more dependable just as soon as I can afford to.