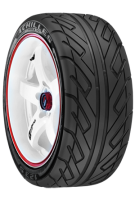 Achilles 123S Reviews (newest first) - Page 1
Given
71%
while driving a
Suzuki Swift 1.5
(195/50 R15) on
a combination of roads
for 1,000
spirited
miles
Been using it for a while, good choice for low budget, amazing dry grip but really slippery on wet track (i have to lower the pressure to maintain optimal grip on wet surface), worn out easily(a bit softer compund maybe?), bit noisy(a lot less noise than the predecessor 123), but overall its good because of the value for money, would buy again, shred your tyre not your wallet
Great tyre but noisy
Only lasted 13000km of spirited driving
Cheap alternative to tires like
1. PS3
2. Assy 2
3. CSC 4
Given
74%
while driving a
Renault Clio 182
(205/40 R17 W) on
mostly motorways
for 10,000
average
miles
Used three sets of 123s driving on mountain road and highway.
Good dry grip sustained until no tread depth,compared to
AD08 it's less stable during intense driving.
And the wear of tires are seriously may be related to the soft rubber.
It is still a good choice in economy.
Given
63%
while driving a
Nissan
(265/35 R18 W) on
a combination of roads
for 10,000
spirited
miles
Not sure if the compound has changed on these but back in 2012 I used to struggle to get wheel spin in a 300 rwhp Nissan S15 using 235/40/18 or 265s. A possible newer compound tends to feel greasier but still providing good grip when slightly warm to optimal temps. Even on mild days I would start to get wheelspin I would launch from the wheelspin even faster, but not anymore.

Since late 2013 and now on 340 rwhp, it's not the same, even if I lower the acceleration. I used to be able to plant it and rear would barely squirm, make the "screech-ech-ech" launch noise and rocket off.

Due to the wear rate on the rear, I am using the Achilles ATR Sport V2 for street. Not a bad tyre but around 20% less grip when warm than the 123S currently, less noise (123S are quiet until they heat cycle too many times), cost 30% less and coping well with some spirited squirts.

I'll be trying either the Dunlop Direzza Z2 Star Spec, Yokohama AD08R or the Hankook Ventus RS3 Z222 next.

It's always good to try new tyres and test their technology. I still think the best overall tyres I've ever used for sprited street is the Toyo Proxes T1R but not a cheap tyre and prboably due for a refresh rubber technology soon anyway (T2R?). Yet to try the competition's range to confirm though.


Given
89%
while driving a
Subaru sti Type RA
(255/35 R18 W) on
mostly country roads
for 10,000
spirited
miles
Love these tyres got them fitted to my impreza turbo very sticky, not really drove hard on wet surface but dry omg.
Cant get use to it, nice tread pattern though. Rear Only
Good grip even in wet. Great on dry.
If u're looking for a set of grippy sticky semi slicks and have a budget to meet, these are great. However they are noisy and due to higher rolling resistance, does consume more fuel.
Given
59%
while driving a
Honda Jazz
(225/45 R17) on
mostly town
for 5,000
average
miles
not recomended for daily use. wear: suck as hell. because its semi slick. noisy after goes 40km/h only can use it under 6 months. affordable prices if u going racetrack/drag budget tire than other brands.not recomended use wet condition as it will slip.
Recently bought it & travelled 500KM on it. I do admit it will take another 500KM to fully see its potential but so far, grip on both dry & wet is awesome. It is semi slick, usable on both track & daily driving. There is a whizzing sound when you break during mid-high speeds due to its aggressive grooves. The tyres looks really aggressive by the way. Price wise, certainly way much cheaper than the usual brands. Would certainly recommend it & will purchase it again.