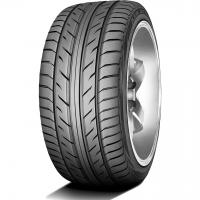 The Achilles ATR Sport 2 is a Ultra High Performance Summer tyre designed to be fitted to Passenger Car
Show All
Tyre review data from 31 tyre reviews averaging 67% over 172,812 miles driven.
Latest Group Test Results
2020 Auto Zeitung Summer Tyre Test - 20th of 20 tyres
Positive - None mentioned.
Negative - Long braking distances and poor lateral stability in the wet (safety issue), long dry braking, unstable rear during dry handling.
View All Tests >>
Sorry, we don't currently have any label data for the Achilles ATR Sport 2
Questions and Answers for the Achilles ATR Sport 2
2016-10-06 - Can I use these in New York in the winter?
The ATR Sport 2 is a summer tyre so will offer very little snow and ice grip during the winter months.
---
Ask a question
We will never publish or share your email address
Top Achilles ATR Sport 2 Review
Given
40%
while driving a
BMW 320 d
(245/35 R19) on for 5,000 miles
Do not buy these tires unless u habe a deathwish.
In dry performance is good but in weth terrific! I
Latest Achilles ATR Sport 2 Reviews
Have you driven on the Achilles ATR Sport 2 tyre?
Have YOU got experience with the Achilles ATR Sport 2? Help millions of other tyre buyers
Have been using these on my cars for years; not the best in terms of high performance but a bargain when looking for a performance tyre for your daily driver. Have run them on VZ Commodores with no problems, now on an modded and tuned Mazda6 MPS. Awesome off the line grip and corner capability. 10/10 would recommend.
Given
51%
while driving a
Holden Ls3 vf2
(275/30 R20) on
a combination of roads
for 10,000
spirited
miles
I have had these tyres for 15000km, 275 rear, 245 front, tyre wear is great. Traction in dry is good, but they are absolutely horrendous in the wet, so bad im replacing them as they are dangerous. Will never put these on a car again.
Given
66%
while driving a
Mercedes Benz SLK
(245/35 R18) on
mostly motorways
for 8,000
spirited
miles
Very good for a dry road no problem even 200+km/h, but really bad for the wet road. For my SLK 250, even a normal pushed on the gas pedal made the wheels spin and always slips on the water, the most dangerous tires I've ever tried on.
Given
76%
while driving a
Mazda 3 MPS
(235/40 R18 W) on
a combination of roads
for 12
spirited
miles
Had a pair of these ATR Sport 2 on my car for a year, for the fronts.
First half with daily driving duties, while the second half it was used mainly on the weekend drives up winding roads / highway runs
With 450nm torque on the front tyres these tyres really put up a better-than-expected performance, similar to brands twice it's price. Despite being 400treadwear rated, it grips very well in the dry, and in the wet it had decent performance (only towards the end of its useful life did it struggle for traction in the wet).
Feedback is superb as well, lots of warnings when it's about to reach the limit of grip, fun on winding roads.
Not as noisy as the Kumho V720, grips like the Goodyear Eagle F1 Asymm 2, and durability that exceeds both those brands, for its price i would definitely give it another go. Very pleased indeed
Given
41%
while driving a
Nissan Qashqai
(225/45 R17) on
a combination of roads
for 300
average
miles
Put on by dealer as a replacement for low tread on the car we were buying - DO NOT BUY if you want a car you can drive in the wet! Dangerous tyres.