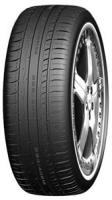 The Autogrip F101 is a Touring Summer tyre designed to be fitted to Passenger Car
Show All
Tyre review data from 15 tyre reviews averaging 46% over 356,800 miles driven.
Latest Group Test Results
2015 Market Overview - Braking Test - 50th of 52 tyres
View All Tests >>
Sorry, we don't currently have any label data for the Autogrip F101
Sorry, we don't currently have any questions and answers for the Autogrip F101. Why not submit a question to our tyre experts using the form below!
Ask a question
We will never publish or share your email address
Latest Autogrip F101 Reviews
Have you driven on the Autogrip F101 tyre?
Have YOU got experience with the Autogrip F101? Help millions of other tyre buyers
Toyota Avensis
(205/55 R16) on
mostly country roads
for 0
average
miles
I bought a car with these Autogrip tyres on the rear axel. On my second commute to work on a damp road the rear of the car lost grip on a slight bend at 50mph and I ended up in the ditch.
The recovery driver said this was common problem with cheep tyres.
I have traveled this on the same road every day for 20 years and never had an issue at all with wet grip.
The car had little damage but the Autogrip tyres with 4mm tread are in the bin and a set of Goodyear's are now getting me safely to work.
BE WARNED DO NOT USE THESE TYRES.
Bought a pair of these (Autogrip 100) for the front of my clk320. Never had a serious issue before with budget tyres but these managed to frighten the life out of me on wet surfaces. Worst being driving in France went round a bend at relatively low speed but stightly negative camber. Was shocked to experience the front end over steering half way through the bend. Checked the wet grip later in safe area to confirm my suspicion that the grip was so bad the car will just break away on the front way before the older budgets on rear with only 3mm of tread. Do yourself a favour. It's not worth the risk for the small cost saving over Khumos or other budget to midrange tyres.
The tires are very noisy, emitting a high pitch whizzing noise at speeds above 45mph. Also the wet grip is terrible, both during cornering and braking. Below 7° grip becomes even worse.

On the upside, they've barely worn thus far.
Given
30%
while driving a
Rover 214 Si
(175/65 R14) on
a combination of roads
for 5,000
average
miles
Tyres(actually "grip 100") fitted a year ago, and since then nothing untoward until a few weeks ago when the front drive wheels spun, starting off as the lead car from the lights in my town, on a wet surface. Have driven for 46yrs without an accident, and have never gone over the line at a junction, but I did the other day at the fairly busy T junction at the end of my road.
This time there were no vehicles waiting to turn right, so I braked the car gingerly on the wet road to make a stop before the white line......or so I thought. A few yards from the line, and making no excessive braking effort considering the conditions, the car's wheels locked up as if on ice, allowing the car to slide into the main road, with little sense of retardation. So much so that the whole car seemed to have entered the carriageway before it finally stopped just feet from a transit van waiting to turn right into the junction.
Luckily for me, there had been a gap in the traffic coming from my right, so I was able to swiftly reverse back over the stop line, without incident. My brakes checked out o.k., so I'm blaming the Autogrip tyres, more than I am blaming myself. To have slid so far forward has to be the tyres, and not any gross miscalculation on my part, at a juction I know so well.
I'll be changing all my tyres to a premium set; if I don't, likely next time, I won't be so lucky.
Given
100%
while driving a
Vauxhall Combo 1.7
(195/60 R15) on
a combination of roads
for 300,000
spirited
miles
I mounted these F101's onto my 15" steel rims on the front of my 2009 Vauxhall Combo van during last summer season and I have to say they are pretty good, the tread pattern is surprisingly snow tyre like with lines and zigzags, I've clocked up just a little over 30k miles with these in the past year and they have about 5mm of tread left which is surprisingly good considering I'm accelerator happy haha normally my driving would rip a cheap pair of tyres to shreds by now but these laugh in my face and with stand all my driving conditions and not once slipped out on me.

Not being about to afford a snow tyre in the early part of the year when we had all that bad snow I invested in some cheap snow socks as it was quite bad where I lived and my trip to work takes me up hills that would make Everest look like a speed bump and while I was taking it very easy with these tyre's because they are only summer tyres I had no troubles with grip I had the socks at the ready but didn't need them, shocked I think was the word, also don't have any trouble in wet weather either and breaking is very good too and certainly would use them again