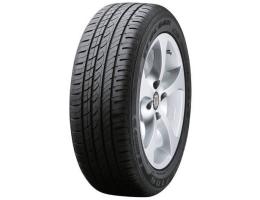 Autogrip F106 Reviews (newest first) - Page 1
Given
13%
while driving a
Nissan 350z
(245/45 R18) on
a combination of roads
for 150
average
miles
Bought a Nissan 350z with these tyres fitted to the rear. The dealer should be ashamed. These should be illegal. There is dry grip but it's minimal. Where it really gets dangerous is in the wet. There is literally no grip. They are so dangerous. Taking corners is like driving on ice. Please avoid. Luckily I only had to wait a day for new Premium tyres to arrive.
Given
26%
while driving a
Jaguar XJ8
(235/45 R18 W) on
mostly country roads
for 500
average
miles
If you are unlucky enough to have these on your car you should remove them straight away.As a motorcyclist I almost never lose grip in a car. With these "tyres" accelerating moderately with no more than 3,000 revs at about 40mph on a wet road with no oil or other contamination and which I have driven on hundreds of times they let go completely. If I had accelerated harder I would have been completely sideways. They have over 7mm of tread. When I remove them I will slash them so no one else can be endangered.A few days before I pulled out of a junction and they screamed, again this is not something I have ever had before.
I have never written a tyre review prior to this but people should be warned about these.
Given
18%
while driving a
MG ZT 190
(225/45 R18) on
mostly country roads
for 5,000
spirited
miles
Abysmal. These were on my MG ZT 190 when I bought it. Poor in the dry, dangerous in the wet. How can these be legal?
Given
10%
while driving a
Infiniti G37
(245/40 R19) on
mostly motorways
for 0 miles
Do not buy these tires if you drive over 45 mph or if you have kids. These are the most unsafe tires I have ever used, they feel as if there is no sidewall support. I bought these tires 100 miles ago and had to buy different ones to replace these ones with after they almost killed my so and myself. the rear end sways like the rims are on with 1 lug nut . worst ride ever. i am so disappointed..
Given
50%
while driving a
Renault 12
(225/40 R18) on
mostly country roads
for 400
average
miles
Shocking shocking shocking. Steer clear, nice pun but steering in the wet isn't something you can do with these sadly. In my defence I never bought them, more inherited them with a car i bought and although they have 6mm tread left they are now gone and replaced with yokohomas.

I cover a thousand miles a week on mostly rural (often wet) roads in my company Megane, which has kindly been fitted with Pirelli tyres but when in my private car I am constantly on edge. I lost the back end at 45 mph, probably would have lost the whole car if it weren't for the Goodyears on the front mind. If it is ever raining I'd use my company car on a private trip to avoid the roller coaster ride on the auto grips.

Seriously, stay away. I have no idea how they can be legal in this wet country
Given
36%
while driving a
Audi A4 1.8T S Line
(225/35 R19) on
a combination of roads
for 6,000
spirited
miles
Dangerous. Sidewalls of tyres delaminated on all 4 tyres. Off course car was super vague and unstable at motorway speeds and upon removal inner Sidewalls found to be full of air and delaminated away from outer side wall. Grip only as crap as any other budget tyre.
Given
39%
while driving a
MG ZS
(205/45 R17 W) on
a combination of roads
for 20,000
average
miles
Needed two tyres for MOT, could not afford Conti Sport Contact 2s at the time.
Really the tyre company (Blackcircles) should have advised against these tyres on the ZS180. The MOST LETHAL tyres I have ever used, so bad the wife would not drive it in the wet. There must be far better budget tyres than these.
Back to the Contis!
Given
31%
while driving a
MG ZS
(205/50 R16 W) on
a combination of roads
for 5,000
spirited
miles
Terrible tyres, I lost the rear end round a roundabout in the dry. Luckly the fronts (Ggoodyear F1) held on and I was able to control the car. The tyres were on the car when I bought it but will be replaced despite having 5mm tread left.