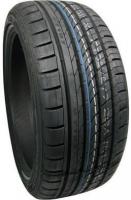 The Autogrip F107 is a High Performance Summer tyre designed to be fitted to Passenger Car
Show All
Tyre review data from 125 tyre reviews averaging 43% over 1,112,261 miles driven.
Sorry, we don't currently have any magazine tyre tests for the Autogrip F107
Sorry, we don't currently have any label data for the Autogrip F107
Sorry, we don't currently have any questions and answers for the Autogrip F107. Why not submit a question to our tyre experts using the form below!
Ask a question
We will never publish or share your email address
Top Autogrip F107 Review
Given
42%
while driving a
Audi A5 2.0TFSI Quattro
(235/40 R18 W) on
a combination of roads
for 10,000
spirited
miles
Brilliant tyre if in the wet you are amused by wheelspin, sliding around and ESP systems going crazy. Fine in the dry but downright dangerous in the wet. You effectively are forced to drive everywhere at the pace of your stereotypical 80 year old Rover driver in order to make safe progress.

Had these tyres on the rear of my car for approximately 8 months, car has always been extremely tail happy in the wet which I found puzzling for an AWD car. It was only when my front tyres needed replacing and I moved these Autogrips to the front did I realise how shocking they are. My previous front tyres were absolutely nothing special at all but I got caught out a few times plowing into the opposite lane driving at my normal driving speed after moving these to the front. You do not have to be driving like a maniac for these to slide, it's genuinely impressive that they managed to make a tyre this awful and is still legal. When they were on the back of my car I've no doubt people have seen me sliding around thinking I'm the local boy racer when in reality I'm just trying to get to my destination.

Positives are they are fairly quiet, and don't seem to have worn down at all since fitting them. I suppose if you were doing motorway driving (and only motorway driving) they would probably be fine if you really can't afford another £20 a corner for something decent.

In short, they are great if you want the excitement of near death expreiences every time it rains, not so great if you like being able to keep up with traffic without crashing.
Latest Autogrip F107 Reviews
Have you driven on the Autogrip F107 tyre?
Please help millions of other drivers make an informed tyre choice and pick the correct tyres for their car by submitting your review of the F107.
Given
37%
while driving a
Fiat 500
(185/55 R15) on
mostly town
for 1,000
easy going
miles
Came on used Fiat 500 car with a lot of tread depth. Basically sound until cold winter day with sleet falling. Came to a gentle right hander at 20 mph that I have driven for years in all conditions and car simply let go. Never experienced anything like it in 30 years driving. Might as well been on ice. Car driveable but write off.

Do not buy these tyres. If fitted change them now before someone dies.
All that others have said really.

Put on if you like near death experiences in the wet.

Don't wait for them to wear out to get rid of them. They will never wear down. Horrible compound and flabby weak structure will have your fingers embedded in the steering wheel from fear.
Given
36%
while driving a
Volkswagen EOS
(235/45 R17 W) on
mostly country roads
for 200,000 miles
Bought a used car that came with these fitted. Why anyone would fit them to a 200bhp car is beyond me. Awful in the wet, you can't accelerate either from stopped or to overtake without the wheels spinning. The slightest bit of frost and they are outright dangerous. Had them changed out for safety reasons for winter.
Given
47%
while driving a
Lexus IS250SE
(245/45 R17) on
mostly country roads
for 15,000
easy going
miles
These tyres are fitted to the rear of my RWD is250. The front tyres are Autogrip P308s. All four were fitted by the previous owner.

Dry grip: My driving style is quite gentle, and the tyre grip in dry conditions is good - nothing special, but good. I can drive with reasonable speed and the tyres cope well.

Wet Grip: This is where things appear to go wrong. I have been driving for over 23 years. I have driven multiple types of car, both manual and auto, front and rear wheel drive ... but I have never known tyres to have so little grip in the wet. The F107s fitted to the rear of my car are an eye-opener. Incident #1: making a left-hand turn at a junction, in wet conditions, at approximately 5-10mph - I applied light throttle power, and the stability control kicks in/starts bleeping .... what the ......?! I put the incident to the back of my mind. Incident #2, a month later: carefully negotiating a large roundabout at 15-20mph, in moderately wet conditions ... I apply light throttle ..... the tail steps out approx 20 degrees, and the stability control kicks in ... thank God there were no cars alongside me! This can't be right?! There was no warning .... the back end just went! I will have to drive very slowly in the wet from now on. The front tyres (P308s) seem to be better in the wet. I have driven a RWD W124 Mercedes in the wet ... with completely different tyres ..... no sliding ....

Wear rate: good - the tyre compound must be quite hard .... hence the above problems!

Comfort: reasonable. Maybe a tad firm!

Conclusion: A reasonably good dry weather tyre with a good wear rate ... but I wouldn't trust these tyres in the wet!