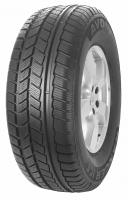 Avon Ranger Ice Reviews (newest first) - Page 1
Given
96%
while driving a
Volvo XC90 D5 185 HP
(235/60 R18) on
a combination of roads
for 10,000
average
miles
Purchased for our Volvo XC90, after previous experience with Nokian, Vredestein and Continental winter tyres. We've found the Avon Ranger Ice winter tyres to be the best used so far. Rock solid in the snow, ice, rain and sleet, and very good in dry. They wear very well, and are currently looking at lasting 4-5 winters easily.

Additional bonus for UK based users, are that these tyres are made in the UK. Confirmed with Avon directly, that they are produced in Melksham, Wilshire and are stamped on the tyres 'Made in England'.

Nice to see at least some quality products are still manufactured in the UK!
Given
96%
while driving a
Vauxhall Antara
(225/45 R17 H) on
mostly country roads
for 1,000
easy going
miles
We fitted a full set of Avon Ranger Ice Tyres onto a New Vauxhall Antara last winter and we amazed by their capability.

We get snow every year and can get drifts upto several feet in bad winters – The Ranger Ices gave amazing grip in snow upto a foot in depth, coped brilliantly on frozen slush covered road and when on cleared roads they performed perfectly in both dry and wet conditions.

For the first time in the last 10 years we went right through the winter without having to use snow chains – This was only down the capability of the Ranger Ice tyres.

We are so impressed with them we are now buying another set to go on our new Mercedes ML W164.

Given
100%
while driving a
Honda CRV
(205/70 R15 T) on
a combination of roads
for 300
average
miles
Amazingly good, I'm flabergasted. Fitted to a SUV 4x4 in mid November. Have only driven 300 or so miles so cannot comment on wear rates. However in the Dry; Wet; Snow, Ice, Water, Grass and Mud they have been brilliant in every respect. At motorway speed they behave impecably, less noise, more comfortable, better feedback,handling, stability and so much less roll in corners than previous tyres. The difference is staggering. Previous tyres were Bridgestone D684 HT. I was a Bridgestone fan and have them fitted to another 4 wheel vehicle and one of my motorcycles. The AVON's are the best and biggest difference ever made to any vehicle of mine in 46 years driving. A better / bigger difference even than changing from Cross Ply to Radial tyres in about 1972/3.