The Avon TrekRider is a All Terrain and Off Road All Season tyre designed to be fitted to Motorcycle
The TrekRider is Avonís first adventure tyre that offers a 50/50 split of on road versus off-road performance. Designed for light to medium trails, the tyre works as well in mud and gravel as it does on asphalt.
This new tyre will make choosing tyres for an adventure bike much simpler. Often when selecting the best road bike tyre, performance can be limited when riding on mud, but with a full-on dirt tyre, a bikeís roadholding can be affected. Avonís new TrekRider has been designed to cut out any of this compromise.
The TrekRider's pattern is all-new, with specially-designed tread blocks and channels that cut through mud, yet also stay stable on tarmac and concrete. A totally enhanced construction on the cross-ply and radial carcasses gives impressive high-speed stability for motorway work, yet retains the compliance found on a dedicated dirt bike tyre. Finally, a specially-chosen compound mix optimises grip on both wet and dry roads, while boosting traction in the dirt.
Show All
Sorry, we don't currently have any magazine tyre tests for the Avon TrekRider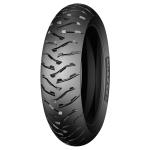 Michelin Anakee 3 - 67%
Sorry, we don't currently have any label data for the Avon TrekRider
Sorry, we don't currently have any questions and answers for the Avon TrekRider. Why not submit a question to our tyre experts using the form below!
Ask a question
We will never publish or share your email address