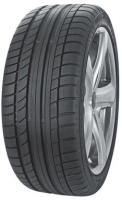 The Avon ZZ5 is a Ultra High Performance Summer tyre designed to be fitted to Passenger Car
This tyre replaced the Avon ZZ3
Show All
Tyre review data from 92 tyre reviews averaging 82% over 610,571 miles driven.
Sorry, we don't currently have any magazine tyre tests for the Avon ZZ5
| Size | Fuel | Wet | Noise | Weight |
| --- | --- | --- | --- | --- |
| 205/40 R17 84W XL | E | A | 70 | 9.43kgs |
| 255/35 R18 94Y XL | E | A | 71 | 12.06kgs |
| 265/35 R18 97Y XL | E | A | 71 | 12.22kgs |
| 225/40 R18 92Y XL | E | B | 70 | 10.00kgs |
| 225/40 R18 92Y XL | E | A | 70 | 10.54kgs |
| 235/40 R18 95Y XL | | | | 11.31kgs |
| 235/40 R18 91Y | E | A | 69 | 11.31kgs |
| 235/40 R18 95Y XL | E | A | 69 | 11.34kgs |
| 245/40 R18 97Y XL | E | A | 70 | 11.83kgs |
| 245/40 R18 97Y XL | E | B | 70 | 11.71kgs |
| 245/40 R18 93Y | E | A | 69 | 11.83kgs |
| 225/45 R18 95Y XL | E | A | 70 | 10.85kgs |
| 235/45 R18 98Y XL | E | A | 70 | 11.74kgs |
| 245/45 R18 100Y XL | E | A | 70 | 12.66kgs |
| 245/45 R18 100W XL | E | A | 70 | 12.66kgs |
| 255/45 R18 103Y XL | E | A | 71 | 12.26kgs |
| 295/30 R19 100Y XL | E | A | 73 | 13.48kgs |
| 235/35 R19 91Y XL | E | A | 70 | 11.36kgs |
| 235/35 R19 91Y XL | | | | |
| 245/35 R19 93Y XL | E | A | 70 | 11.97kgs |
| 255/35 R19 96Y XL | E | A | 71 | 12.57kgs |
| 275/35 R19 100Y XL | E | A | 71 | 11.44kgs |
| 245/40 R19 98Y XL | E | A | 70 | 12.37kgs |
| 255/40 R19 100Y XL | E | A | 71 | 13.48kgs |
| 275/30 R20 97Y XL | E | A | 71 | 12.93kgs |
| 275/30 R20 97Y XL | | | | |
| 245/35 R20 95Y XL | E | A | 70 | |
| 255/35 R20 97Y XL | E | A | 71 | 13.03kgs |
Questions and Answers for the Avon ZZ5
2018-03-07 - Do you know if AVON ever put their car tyres forward for comparison against their rivals? I believe Avon to be a respected British tyre company but i can never seem to find them appear in the tyre tests. Because i want to support British companies i have 2 cars both with full sets of avon ZZ5 which i find to be excellent but it troubles me that i cant see them reviewed against direct rivals Do they have something to hide?
The Avon ZZ5 is quite an old tyre now. If you look at a newer pattern, such as the Avon ZV7, it has been tested and scores comparatively well for its price point.
---
2020-06-03 - Can I replace Avon ZZ5 with Avon ZV7 on my Fiesta ST ? Thanks.
Replacing the ZV7 with the ZZ5 is no problem.
---
Ask a question
We will never publish or share your email address
Top Avon ZZ5 Review
Given
98%
while driving a
Volkswagen MKV GTI
(225/40 R18 W) on
a combination of roads
for 2,000
spirited
miles
PERFECTLY SUITED TO MY CAR.VERY SECURE WET WEATHER PERFORMANCE.DRY GRIP AND STEERING FEEL VERY PLEASING>STILL TRYING TO FIND A DOWNSIDE TO THE BEST TYRE I HAVE EVER PUT ON MY CAR>
Latest Avon ZZ5 Reviews
Have you driven on the Avon ZZ5 tyre?
Have YOU got experience with the Avon ZZ5? Help millions of other tyre buyers
Given
96%
while driving a
Ford fiesta st
(205/40 R17 W) on
a combination of roads
for 17,000
spirited
miles
Purchased a pair for the front of my ST200, now twenty months old and very near to needing replacement. They were immediately quieter than the Ford standard fit and have been providing me excellent grip throughout their use. I'm seeking to buy ZZ5's again!
Given
87%
while driving a
Audi TT MK2 TFSI
(225/45 R18 W) on
mostly country roads
for 4,000
average
miles
If you have a heavy oil burner with soggy suspension you should not be buying sport tyres. If however you drive a mid weight VW TT or GtI you definitely want these. Lets start by saying a performance tyre will not last as long , I know this is an obvious mute point but it needs to be said. So lets start by saying we had these on the car when we bought it and the fronts even worn to legal limit felt fantastic, I had to get an old stock set as I dont think they make them any more any way put them on they feel like typical new tyres bouncy squidgy but after less 150 miles they are back to the perfect tyre for on the TT. The grip turn in and progressiveness of this tyre is outstanding as is mid corner stability. I send best wishes to engineer that designed his tyre ....outstanding on VW AUDI
Bought these with Audi A6 C6 '10 plate. They were pretty much new when I bought the car. 20k later there was nothing left on the front. I still got few k left on rear ones. The sportiest tyres I ve had, however I never really owned a proper sport tyre before. In warm weather, once the tyre was warm I was really happy with the grip, handling and responsivness even though my Audi was front wheel drive only. Had my car remapped to 205bhp on the wheel and aprox 430NM so quite a lot of torque sent to the front. In these conditions tyre performed really well. Even more experienced drivers were suprised at what speeds you can go around the corner. On the other hand, in wet and cold conditions it can be quite scary, trying to go up the hill and around the corner in first normally results in wheelspin howevever I am aware my front were worn unevenly. It appeared previous owner was putting way to much air in them as middle part had considerably less tread than sides. Had the front swapped for Nexen N Fera SU4 (£75 a piece). This was much more comfortable to ride on and better in wet however much noisier and even though the dry grio was good, Avon felt much sportier and way mlre responsive. Overall really good in dry, not so good in wet. Not the best in terms of wear. For £124 a tyre I will be trying Goodyear Eagle F1 AS5 as it has much better reviews and I miss the sporty feel.
Fitted to my Audi TT Quattro, replaced set of miss matched Chinese hedge finders that came with the car. Absolutely transformed the handling. Ok I've got four wheel drive but have never managed to loose grip in spirited driving in the wet or dry. Were rubbish for the first hundred or so miles, really slippy but guess they were bedding in.
Purchased used Audi A4 with 4x new Avon ZZ5 tyres. Less than 12000 miles later Iā€™m changing all tyres. Whilst thereā€™s a good amount of tread left, Iā€™ve never been satisfied or felt secure with grip in either wet or dry conditions. However, my biggest complaint is tyre noise. Whilst I appreciate a 19ā€ tyre will never provide a quiet, comfortable ride, these tyres are woeful. The tyres make a drone noise similar to a failing bearing and especially in colder conditions. Iā€™ve been to several garages who have confirmed bearings are good and all suspect the tyres. For me and my fellow passengers sanity these tyres are going. Would I recommend? No. Would I buy myself? Definitely not.