BFGoodrich gForce Winter 2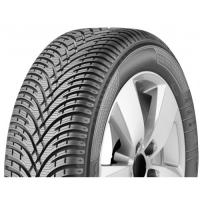 BFGoodrich gForce Winter 2 Reviews (newest first) - Page 1
Given
98%
while driving a
Honda Accord CTDi
(225/45 R17) on
mostly motorways
for 0
average
miles
Just the perfect tyres for the price. Never had any better price for performance tyres.
Given
90%
while driving a
BMW 325 coupe
(205/55 R16 V) on
a combination of roads
for 1,000
spirited
miles
Wow... Surprised to be honest.
Bought these tyres because I found them for a great price (210 euro fitted for a set of 4).
Broke them in by driving around town, shorter journeys up to 50km.
After about 400km, I embarked on a 1000+km journey across Slovakia, Austria and Germany. Weather was shit, everything from snow, rain to wind and ice.
The tyres handled the cold, wet and snowy conditions very well. Bombing down the autobahn at 210 km/h in the rain felt really stable.
Road them a bit on dry roads since then and what can I say. You feel that these are winter tyres designed for wet and snowy conditions. By no means are they bad in the dry, just don't expect them behave like the Pilot Sports 4s.
I would definately buy again, for the price they are unbeatable.
Given
94%
while driving a
Ford Focus
(195/65 R15) on
a combination of roads
for 1,000 miles
These tires are perfect. Snow. Rain. Dry. Extra behavior. It fell over 20cm of snow and no problem at any hill. Copper on shoulder with premium
Given
86%
while driving a
Citroën C2 VTS
(185/60 R15) on
a combination of roads
for 2,000
easy going
miles
+ Reasonable price
+ Good wet grip
+ Perfect grip in ice
+ Can bring comfort ride for small sports car
- a little bit noisy on dry roads above 90km/h
- fast wear

Given
93%
while driving a
Mercedes Benz Vito
(225/55 R17 H) on
a combination of roads
for 3,200
average
miles
Having fun Michelin CrossClimates on my Mercedes Vito for a couple of years and coped ok on Baltic roads in the winter, I decided to switch to full winter tyres this season as I'm towing much more.
We have just returned from a 3,000 mile trip through Scandinavia and into Arctic Lapland. Wind, rain, snow, and ice with temperatures hitting -15C. Even with a 1.5t caravan on the rear in 3" of snow, we drove comfortable and stable st speeds up to 100kmh without worry. On sheet ice we lost some traction on steep downhill but nothing to worry about. I certainly can not fault the tyres though cannot state how they will wear as it's way too soon to judge.
Given
90%
while driving a
Lexus GS450h
(245/40 R18 W) on
a combination of roads
for 3,000
spirited
miles
These tyres have been ace. For a near 2 ton car, and living in the Peak District during the 2018 "Beast for the East" winter, I have never been stuck and have even past 4x4s that have been! Obviously I've taken a precautious approach to certain routes but I live at the bottom of a 1-in-20 gradient hill that's isnt ploughed that was a foot deep in snow and my car drove up and down it fine all week long with these fitted all round. Would definitely recommend.

I have also had no problems them in normal conditions and enjoy the handling of them when having a bit of fun (I know it's a tank n not really made for for throwing around but I have my mad moments) it sticks reasonably well but that being said I can't wait to put my 20" summer rims back on to stiffen it back up a bit.

To conclude, they are quiet, smooth and suit the cars refined style and would recommend to anyone as a great winter tyre.
i am taxi driver in place with 1000m altitude.i am happy to buy this tyres its not 50/50 tyres its for winter!i grip in snow,ice,dry,wet and its excellent!and low fuel.

Good tyre in the wet.
Good in the dry, and on snow and ice.
Low fuel consumption.
Given
80%
while driving a
Nissan Qashqai
(205/70 R17 H) on
a combination of roads
for 2,000
spirited
miles
Hey guys,
The tires are some kind of 50/50:
You get excellent handling on wet road, absolutely no noise until the road is dry, feels nice on straight road and very fuel efficient. To get more grip you need to keep 2.6-2.7 bar
But there is a catch.. Those tires are very noisy on the wet ( covered with water) road, feels very unresponsive while cornering like you're driving on a sandy surface (2.2 bar). The first time I did long turn like 10degree on 50 meters and about 70 km/h - it felt like driving on sand or snowy surface, feels like no grip at all. Need to get used to it.
No grip on ice, mid grip on snow.
Do recommend this tires for city driving with wet + mud roads and maybe wet snow, or long distance hi way cruising.
Do not recommend for snow + ice and aggressive driving persons, cuz you wont feel the road.
I'll give it 8/10 for excellent water resistance to aquaplaning and no noise.