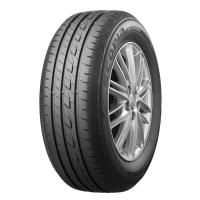 The Bridgestone Ecopia EP200 is a Premium Touring Summer tyre designed to be fitted to Passenger Car
Show All
Tyre review data from 17 tyre reviews averaging 69% over 360,200 miles driven.
Sorry, we don't currently have any magazine tyre tests for the Bridgestone Ecopia EP200
Sorry, we don't currently have any label data for the Bridgestone Ecopia EP200
Sorry, we don't currently have any questions and answers for the Bridgestone Ecopia EP200. Why not submit a question to our tyre experts using the form below!
Ask a question
We will never publish or share your email address
Top Bridgestone Ecopia EP200 Review
Given
31%
while driving a
Toyota Innova
(205/65 R15) on
mostly town
for 14,000
average
miles
It's the worst tyres I've ever used in my 25 years of driving.

Dry grip and braking is just adequate. ABS kicks in every time under moderately heavy braking indicating the tyres are losing grip.

In the wet, exercise extreme caution. The tyres break away very early in cornering and under braking.

What's worse than the appalling performance is it's only left with 3mm tread depth after just 14000miles (23000Km). My previous sets of Michelin and Continentals covered 50000km before needing replacement.

It's advertised as a eco/green tyre with low rolling resistance and fuel savings but I've experienced zero change in fuel consumption.

These tyres do not give much feedback and the steering just feels numb.

The only positive attributes I can give to these tyres is that it's relatively quiet and rides comfortably but nothing exceptional compared to my previous sets of Continentals and Michelin.

Stay away from these tyres if you value you life and those of your family.

Latest Bridgestone Ecopia EP200 Reviews
Have you driven on the Bridgestone Ecopia EP200 tyre?
Have YOU got experience with the Bridgestone Ecopia EP200? Help millions of other tyre buyers
Was a good tyre, but need to replace them. And the replacement value is insane on this tyre. Yet a lower profile is half the price. Further more, the reviews are terrible, and i have pirelli at Heart. that is even cheaper than the lower profile (45's).
Given
71%
while driving a
Toyota Altis
(195/65 R15) on
a combination of roads
for 38,500
spirited
miles
I had these Bridgestone Ecopia EP200 (195/65/R15) tyres fitted at the 100,000 km mark and my ODO now shows 162,000 km on the clock which means I have been using these tyres for over 62,000 km (38,500 miles). I am driving an automatic gearbox Toyota Corolla Altis, mainly in the city and on surrounding motorways (urban driving) with a fair share of country roads and highways as well. I would say that I drive in the city and on surrounding motorways 80 % of the time, however, the actual mileage of the tyres is actually made of 50 % city and 50 % country highways and roads.
I would say that my driving style is pretty "spirited" as I usually like to launch from standstill and red lights, doing redline accelerations and I sometimes have to brake pretty firmly...

So as far as wear is concerned, I m giving these tyres 100 % as even after over 60,000 km driven in a sporty manner, they are still not completely worn and even though I will be changing them sometime in the next 2-3,000 km, they could very easily last at least 10-15,000 km more.

Now as far as handling and grip are concerned it s another story. Dry grip imho is pretty good, I have never ever felt the car slipping or somehow escaping my control even when driving in curves at 180 kph and this, despite my all-time spirited driving style. So dry grip and handling is good. Wet grip is another story though, when the tyres were brand new wet grip was a-ok, it was not fabulous, but ok, but as the tyres were approaching their end of life, wet grip became worse and degraded more and more to the point that I am actually scared to drive on wet, slippery roads now, I dont feel safe.

As far as comfort is concerned these tyres are ok, pretty quiet but thats about it.

Would buy again? Probably not, I will be buying better, high-end tyres when I replace them.