Bridgestone Potenza RE070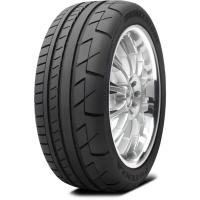 Bridgestone Potenza RE070 Reviews (newest first) - Page 1
Given
89%
while driving a
MINI Cooper S
(225/45 R17 W) on
mostly country roads
for 7,000
spirited
miles
Great tyre used for the every day commute, weekend B-road thrash and even on the track. I fitted a full set back in July 2018 and have only changed due to going for Cup 2's. These tyres have proved to be very capable on track with astonishing good grip levels at the price point (well under other sport tyres). 100% will buy these again!
Given
80%
while driving a
Honda Civic Type R
(225/45 R17) on
a combination of roads
for 0
spirited
miles
Now running my second set on an '07 Civic Type R. IMO the perfect combination for fast road/light track use. Once warmed up, they offer excellent grip and feedback, while still being better in the wet than 'proper' track day tires, and even better in the wet than a lot of road tyres. Still quiet enough for a daily driver, however they do tend to tramline a little on uneven surfaces (although a lot of this is due to suspension geo) . 9/10
Very, very good dry weather tire, if I only used the car in the summer then I would purchase again. Lethal in the wet, no grip in standing water and have little confidence in the cornering ability. Would not consider purchasing again.
Potenza re070 . IMO these tyres are brilliant for the money supplied and fitted was 175 for 2 from black circles . recently went to wales with a few of the lads an really tested them . I think although there a quality tyre I don't think they are the best for any roads with layers of dust dirt or gravel but on clean roads there one of the best . wet weather is where the tyre falls a little short . tends to slide at 65 to 70% of the limit so you may want to drive more leisurely if its teaming . I drive a 2006 sti so constant 4 WD helps . everyone always comments on the look of the tyre which doesn't help with grip but nice to know I spose lol
This is stock STi tyre and it is really good and also very cheap.

If you have a Subaru and use 17'' wheel don't even think about buying other tyres because there is no better tyre for the street. On the track you can get better performance only from competition tyres. It's a shame you can't get 18'' size of this tyre easily (at least in EU).
Have had them for one summer ~ 3.500km. Road grip is superb, reducing understeer. Have seen a trackday and prevented me from hitting the grass while attacking a corner too early. Very stiff side walls which transforms the way my car handles.

Wear is OK, expected to be worse.

Very noisy, and above 80 km/h in wet/rain you are playing with your life.

Good price.
Given
83%
while driving a
Subaru Impreza WRX STI
(235/45 R17 W) on
a combination of roads
for 25,000
spirited
miles
Excellent dry grip, especially on track if they are up to temperature. Wet grip average, worsens significally if close to wear markers. Noise and wear are average, ride is a bit harsh around town, as the walls are VERY stiff. Would defenately buy again.
Given
71%
while driving a
Subaru Impreza WRX STI
(225/45 R17) on
mostly country roads
for 5,000
spirited
miles
Good tire for summer action
Given
91%
while driving a
Audi A3 1.8T sport
(225/45 R17) on
a combination of roads
for 2,000
spirited
miles
excellent tyre in wet and dry just a shame about limitd sizes