Dunlop Sport Maxx RT 2 SUV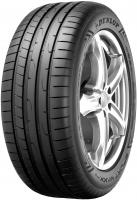 The Dunlop Sport Maxx RT 2 SUV is a Ultra High Performance Summer tyre designed to be fitted to SUV and 4x4
Show All
Tyre review data from 3 tyre reviews averaging 72% over 12,000 miles driven.
Latest Group Test Results
2020 SUV 4x4 Summer Tyre Test - 2nd of 10 tyres
Positive - Balanced performance in nearly all categories. High steering precision and short wet and dry braking.
Negative - Average rolling resistance.
2019 Auto Express SUV Tyre Test - 3rd of 8 tyres
Overall - Not as sharp as the Continental or Goodyear, but still a great all round tyre.
View All Tests >>
Sorry, we don't currently have any label data for the Dunlop Sport Maxx RT 2 SUV
Sorry, we don't currently have any questions and answers for the Dunlop Sport Maxx RT 2 SUV. Why not submit a question to our tyre experts using the form below!
Ask a question
We will never publish or share your email address
Latest Dunlop Sport Maxx RT 2 SUV Reviews
Have you driven on the Dunlop Sport Maxx RT 2 SUV tyre?
Have YOU got experience with the Dunlop Sport Maxx RT 2 SUV? Help millions of other tyre buyers
Given
49%
while driving a
Lexus RX300
(235/55 R18 V) on
mostly motorways
for 4,000
average
miles
They tyre did deform in few months constant driving, no holes on the road to get.. Bought 4 and 3 of them have deformed and the vibrations are felt on stering but also by passengers. On the balance machine it is visible better how the rotation is not correct. Made videos with my phone on each tyre - as have them under replacement procedure now by dealer. So, nice tyre if it does not get deformed. It is quiet one, good handling on dry. Not so good on wet, loosing grip cornering. But deformed, is unacceptable, will not buy again. My car is suv approx 2000kg. Maybe for lighter car is not an issue. No clue.
Given
95%
while driving a
Honda CRV
(235/65 R17 V) on
a combination of roads
for 1,000
average
miles
I wanted a cheaper alternative to michelin pilot sport 4 and pirelli so I have recently had the Dunlops fitted I immediately noticed how quiet the road noise is with the Dunlops and the grip levels in dry conditions and especially wet considering February this year broke records for rainfall in UK these tyres inspire confidence particularly on roads with poor drainage and braking inspires confidence too the ride feels quite stiff or taut but not uncomfortable and for the price I feel Dunlop offer an excellent alternative to my previous favourite brands but how they wear will determine if they are truly value for money over Michelin or the pirelli brands
Given
87%
while driving a
Lexus RX300
(235/55 R18 V) on
a combination of roads
for 7,000
average
miles
The tyres are fitted on a SUV 4x4 permanent. 2.2 bar front and rear.
Usual use of the car is out side of the town, highways etc. Usually the car is stopped and there is a risk of deformation of the tyres, even if the usual stop is 2-3 days, sometimes even 2 weeks. Not sure about their resistance on deformation due to not daily use !

Pros.
Very quiet at any speed, good handling, predictable, never drifted on dry road, drifting on wet and very predictable so no surprises.
Cons. Have some vibrations, not sure the reason, if the tyres got deformed or other reason, just to have some attention in this direction in case you do not drive daily.
Was not ready for the first snow yesterday, absolutely avoid driving with those in snow. zero handling in downhill no braking effect at all, quite dangerous. Of course those are for summer use, so not to consider this as negative aspect of the tire, just wanted to warn you :)
good luck