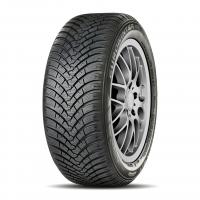 Falken Eurowinter HS01 Reviews (newest first) - Page 1
Given
100%
while driving a
Chevrolet 2012 Cruze
(205/60 R16 H) on
a combination of roads
for 4,970
average
miles
It has the best performance in wet. You will not need to slow down in aqua. I used it in -10 Celcius degree icy road with no problem at 24-50mile per hour. At 100 mile per hour and above the road sound start and 111mile per hour it becomes unstable in dry road. After 4970 mile it weared 0,4mm. In my opinion it's very very good tyre to price.
Given
79%
while driving a
Ford Kuga
(235/55 R17 V) on
mostly town
for 1,200
average
miles
Bought four of them on 2018 November for my 1.5 Ecoboost AWD Ford Kuga. Now I'm about to change them with summer ones (Michelin Latitude Tour HPs brought with the car) and I think I can make a reliable review.
From Premium class I looked for WinterContact and Ultragrip models. They were too pricey. And from mid class I checked Nokian WR SUV tyres. Even their price were much for me and after some search and tyre test read I learned about Falken tyres' cost/effective performances.
In short, I bought Falken Eurowinter HS01 tyres and used them mostly in cold whether, dry and rainy roads and a couple times on snowy mountain climbs and downs (Lately I learned about Eurowinter SUV series but they were not on market in Turkey).
Especially on rainy days tyres give me confidence comparing Latitude Tour HPs. Also dry grip is assuring. On snow I had no real grip loss but in some mini occasions they tidied up well maybe with the help of AWD as well. I didn't ride on an absolute icy road but I guess you may want a studded or more aggressive treaded tyre for those conditions.
It's been four months and tyre wear is normal. In my conditions I can use this set at least for another two seasons I guess. Car comfort and noise levels are normal. I slightly wonder if this set cause a very small rise on fuel consumption (+ 0,2-0,4 lt/100km) comparing Latitude Tour HPs but that may occur because of the winter conditions, etc. as well. I'm not really sure about this.
Overall in my mild winter conditions I needed a tyre which gives enough grip all in dry, wet and snowy conditions as well. And in this price level Eurowinter HS01 is among the best I think.
I have this tyres from 3000km ago and tested them on dry, wet and snow. They are a perfect choice in this range of price. They seem a bit noisy but they are winter tyres in the end, nothing too bad. Surely I will buy them again!
I decided to try these tyres after a positice experience with a set of Falken summer tyres, the sincera sn832 ecorun.

I found these pretty good especially on dry and wet roads, they have good grip and the steering response is nearly as precise as the sn832.
Comfort and noise are more on the average side, but they seem to wear quite well at the moment. Snow performance is quite good but not fantastic.

In summary this tyre is quite dynamic and more dry/wet oriented. I would especially recommend them for milder climates where snow is rarer.
Given
90%
while driving a
Ford Focus MK3
(205/55 R16) on
mostly town
for 0
average
miles
Bought them this year and I am really impressed by them in the wet. Superb handling and even better aquaplaning. In the snow they are confident as well. Haven't been over the limit yet wit them. Overall I will buy them again.
Given
87%
while driving a
Suzuki Swift
(185/55 R16 H) on
a combination of roads
for 3,500
average
miles
I am driving mostly on dry roads. Noise is low, grip is good, fuel consumption is about 15% larger than Bridgestone Ecopia. I am usually not pushing it but tyres perform well even if I push it on country road.
I had a chance to drive in snow for few km and I was really happy how car handles.
Wet grip is also good. Tyres give you confidence to drive relaxed. Only on wet cold slick asphalt tyres do not perform very well, but on the other hand which do?
I had Conti winter on previous car and Falken compared to them is almost as good. If you take price into account Falken is definite winner.
I will buy them again and I am considering summer set when current summer set wears.

They are equally good both on dry and wet roads. I did not have enough driving on snowy road to give real verdict.
They are not loud on highway and perform well on 150+ km/h

All in all Falken Eurowinter HS01 is great winter tyre. I would highly recommend it.
Given
87%
while driving a
Renault Grand Scenic
(205/55 R17 V) on
mostly motorways
for 500
average
miles
Bought two new tyres for front wheels on Renault Grand Scenic 3 and the impressions are good. Tyre is very good in dry conditions and a little worse on the wet. I drive the car normaly most of the time. Haven't test them on the snow yet, so can't really tell what king of grip to expect. Before HS01 I had HS449, which was also very good in dry conditions but worse in the wet. Also the wear seems to be on the strong side of good expectations from this tyre. The price is extremly favorable for a tyre of this kind, so I would recommend the HS01 to anyone except for sporty/aggressive drivers. Would buy them again. Recommendable.
I was worried a bit while buying it, since it was not tested much and there was not much information shared over the Internet about it. But it was 60-70 dollar cheap for each tire than the Nokian, Michelin and Continental brands, therefore I bought it right away with little review here and there. But I am really shocked with the performance of this tyre. I am writing this because I want people to reach a reliable review over the Internet before buying it.

Good:
1) The tyre is amazing on wet and dry while braking.
2( It is also amazing in snow (no ice involved). Lets say in pure snow. It does not really matter how much of snow there is on the ground, it handled it quite well. No issues at all on snowy road.
3) On ice however, it was not that well as stated in its description. On the straight road with the ice, the tyre also performed considerably well. However, when 40 degree slope (gradient) with full ice, it was skiing a bit (it was climbing but moving to the right, uncontrolled), but I got to the snow side of the road and it climbed well again. So there is the problem of handling on icy roads with good slope.
4) In terms of comfort, it is much much better than my Michelin Pilot 4 Performance tyres. I have replaced with winter tyre and all those noise has gone. There is only a little noise left in the car. It is quite comfortable with the steering.
5) Considering the price and the above-mentioned attributes, I think this tyre is one of the best tyre to buy in the market. I hope it wont get more expensive, like other unnecessarily expensive tyres.

If I got some new outcomes, I will report them here. This area where I am in, is one of the coldest and snowiest areas in the world. We have already had our first snow 4 days ago, until the level of my foot ankle sunk :)

Safe drive everyone!
Given
89%
while driving a
Renault Megane 2 sedan
(205/55 R16) on
a combination of roads
for 10,000
spirited
miles
I've bought this tires last season on my tyre supplier recommendation. He said its supposed to be a "budget Conti", and it sure is! The wet grip is amazing, dry as well. Not to loud to drive, i do 40/60 motorway/town, and I'm not an easy driver, and the tires do good. Snow grip is also very good!