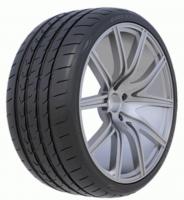 Sorry, we don't currently have any label data for the Federal Evoluzion ST 1
Sorry, we don't currently have any questions and answers for the Federal Evoluzion ST 1. Why not submit a question to our tyre experts using the form below!
Ask a question
We will never publish or share your email address
Top Federal Evoluzion ST 1 Review
Given
83%
while driving a
Audi TT RS
(255/30 R20 W) on
a combination of roads
for 2,000
average
miles
Exceptional tyres for their value.
OEM Yokohama V105's were worse...much worse not only in comfort but in both performance on dry and wet. Just the road feedback could be improved ...
Very good tyre and w/o much info in the net was curious to try them and don't regret at all...
Latest Federal Evoluzion ST 1 Reviews
Have you driven on the Federal Evoluzion ST 1 tyre?
Have YOU got experience with the Federal Evoluzion ST 1? Help millions of other tyre buyers
Ford
(255/40 R19 W) on
mostly country roads
for 15,000
spirited
miles
Dry grip much better than a lot of high end tyres I've used including michelin, wet grip is really good you'd have to be a bit silly on the throttle to come unstuck, wear rate is good for the price good feedback they let you know when they're getting to the limit and I wouldn't hesitate to buy them again over much more expensive tyres
Given
40%
while driving a
Fiat 500 Abarth
(215/40 R17 W) on
a combination of roads
for 10
spirited
miles
I just pulled off a set of work and very hard Yokohama AD0R Neova 215/40 as it rains alot here and i was nearly falling off the freeway above 100kph in a straight line. My car is an Abarth 595 Competizione with fully adjustable coil-over suspension and a specialist alignment for track day use. Driving out of the tyre shop and around town the new tyres felt good and steering was light and smooth. A bit more speed and they were nice and quiet, i headed for the motorway to give them a proper run in and on my first lane change i was shocked and horrified!!! It honestly felt like they were all flat or something wrong with the steering. There's a massive delay in reaction from steering inputs and once straight the car wobbles back to centre again like on a playstation game. Hard braking and acceleration on both wet and drive tarmac proved that they do have some grip to offer but the way it steers is frightening now, cant wait to get them off!
Given
50%
while driving a
Ford fiesta st
(205/40 R18 W) on
mostly country roads
for 200
spirited
miles
I had HIGH expectations after reading some reviews - someone even called this tire "baby pilot sport 4".. Coming from pilot sport 4 I was dissapointed, initial dry grip is ok but 2 hard turns it starts to wobble around like a boat very dangerous.. steering feels loose and not accurate. Cornering at 100km/h+ is like cornering with winter tires not very confidence inspiring. Dont drive too fast in rain it likes to understeer. Positive things : very low road noise and very confortable
Given
93%
while driving a
Nissan 370Z
(265/40 R19 W) on
a combination of roads
for 7,000
spirited
miles
I swapped from Bridgestone RE05 which came with the 370Z and for half the cost! I take 400bhp modified 370Z on track days and spirited driving trips (European tours) and I am very impressed with the performance of the Federal for the money... Bang for buck and they look amazing! Lateral load handling on track and road is great, XL tyres, great contact patch. Unsure in the wet, struggles when cold but once going no issues at all and deals with aquaplaning well when motorway pounding, very stable. Mega impressed overall and seem to be lasting well also... 7,000 miles (60% spirited miles) and a track day and loads of lift left around 5.2-4.8mm