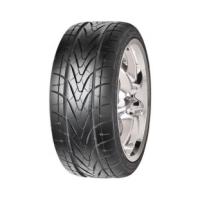 Forceum HEXA Reviews (newest first) - Page 1
Given
33%
while driving a
Nissan Juke
(225/45 R18) on
a combination of roads
for 1,000
average
miles
Worst tires I've ever bought. Car drove perfect with old worn out tires. Put these and cars wanders all over the road. Complete trash.
MINI Cooper S
(215/45 R17) on
a combination of roads
for 30
spirited
miles
I had these tires on a 05 Mini Cooper S they did very well for me in the heat off Las Vegas and did good in the few rainy days we have in the winter they handled good but we don't get snow so no idea how they would handle. I now have a set on my bmw z3 and they seem to be doing good. Will definitely buy again.
Given
64%
while driving a
Ford S Max
(225/50 R17 W) on
mostly town
for 10,000
average
miles
Bought these as they were all I could afford. They have easily matched the performance of Nexen N6000, Falken FK452 and Pirelli P6000s I've had in the past. Only real downside is noise. They are very noisy tyres. However for the cost savings, performance and lifespan it's a sacrifice I'm willing to make.
good hard wearing good grip but bit noisy
Given
27%
while driving a
Ford ba falcon
(235/45 R17) on
a combination of roads
for 10,000
average
miles
cheap rubbish
Don't buy these tyres they are rubbish. NOISEY and also NOISEY with no grip. They were on the car when I bought it only just been fitted and I am changing them right away.
Given
24%
while driving a
Nissan Note 1.5 dci
(185/55 R16 V) on
a combination of roads
for 15,000
spirited
miles
The worst tyres I've ever driven on in over 45 years.

No grip whatsoever in snow, very little grip in wet and if standing water is more than 1 mm deep they aquaplane. So bad I have to drive like a granny in bad weather.

I've had more grip on bald tyres than with these when almost new.