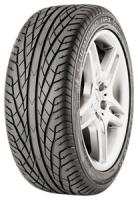 GT Radial Champiro HPX Reviews (newest first) - Page 1
Given
83%
while driving a
Nissan Primera
(225/45 R17) on
mostly country roads
for 16,000
spirited
miles
The best tyre for money. A can´t fault them. Maybe they need more km than usual to get optimal behavior. Due to their directional pattern, they are verry good in wett, and is save and funny to overtake cars. They could have M+S mark, because when I have to switch to them on the beginning of winter, they were much better than Nokian WR D3 on snow and slush.
Given
80%
while driving a
Peugeot 206 cc
(205/45 R16 W) on
mostly country roads
for 20,000
average
miles
Someone here mentioned hard rubber. I get the impression that GT Radials are of softer rubber than many - hence stopping distances and cornering grip are impressive, but wear rate is greater. However if they cost 70% what others do, and last 70% as long, then I'm very happy to have the extra margin of stopping safety for nothing, in effect. I haven't noticed the noise issue on these or other types of GT Radial.
Given
63%
while driving a
Honda Accord CTDi
(225/45 R17 W) on
a combination of roads
for 15,000
average
miles
I purchased these tyres and was happy with all aspects of the performance, however the car failed its MOT as the 2 rear tyres were deemed dangerous.

The tread was ok, however the inner sidewall on each tyre had developed a split all the way around the circumference. Unfortunately the tyres were not send back for inspection, but it was bad enough to fail an MOT.

Personally I would not purchase them again for that reason, at £80 approx per corner, and driven at standard speeds on a family car they should last longer.

Not sure if links are allowed? - I have put some images online here: http://gt-radial-champiro.blogspot.co.uk
What are deamed as budget to mid range tyres, you won't go far wrong with these tyres on your car. They are predictable, give excellent grip in the dry and in the wet, minimising aquaplaning. I am more than happy with these tyres on my 250bhp Saab and i would not hesitate to buy these again. Tyre wear is excellent, road noise is no worse than any other brand of tyre. At the price of £275 for 4 tyres, they offerd me superb value for money. By the way, my style of driving is 'aggresive' or 'pushing it' but the closest match i can select on here is 'spirited'!!
Given
99%
while driving a
Toyota Corolla
(225/45 R17 V) on
a combination of roads
for 5,000
spirited
miles
Had these fitted to new (different sized) wheels, so not a straight comparison but they instantly improved the handling and stability of the car in all conditions.

Since then I have done a significant amount of miles and these tyres have proved to be an excellent choice. As well as the excellent road holding, they are also wearing exceptionally well and they also don't lose their pressures.

All in all, a thoroughly recommended quality tyre at a midrange price. Would definitely buy again and urge you to try a set!!!
These tyres started off performing excelent, however after 6 months the noise like others have experienced has become totally unbearable!! would never buy again because of this!!
Given
59%
while driving a
Mitsubishi lancer
(205/50 R16) on
a combination of roads
for 20,000
spirited
miles
Overall, this is a pretty grippy tyre for its price.

As of now, I am writing this review, I just got the tire balanced hours ago.

This tires shown very little wear, however, I guess this is due to the pretty "hard" rubber. A solid rib provides good steering feedback, as well as "tram-line", forcing me to do steering corrections when driving on uneven roads.

However, after around 15,000 KM, the tire noise is unbearable. There is a constant "drone" when speed are above 40km/h. Severe vibrations (due to noise) during stopping.

Will not buy again, because of the tire noise is even louder and more uncomfortable than semi-slicks.
Given
91%
while driving a
Audi A3 Sportback
(225/40 R18 W) on
a combination of roads
for 25,000
spirited
miles
Dry Grip: Exceptional for an economy tyre. The only difference that you'll notice between this and a premium brand is that it seems to give a little bit more (side walls aren't as stiff) under heavy cornering or huge acceleration. Overall though, you would have to be driving like a lunatic in order to overwhelm these tyres.

Wet Grip: Probably the best part of these tires. They disperse water so well that you will struggle to believe that your car isn't invincible in the wet.

Icy Roads: I've not tried them on full blown deep snow, but on what I've been able to, light snow and very icy (Black Ice) roads, these tyres take them in stride. Again once your driving within a rational limit these tyre's won't fail you.

Wear: I've done over 25K in these tyres and the only reason it is getting changed is that my vehicle needs to the wheels aligned and the camber adjusted as i've gotten an uneven wear of 4mm-4mm-1mm. Which as you can tell would suggest that I'd have at least another 5-8K left in the tyres.

Progressiveness: This is where you can tell that it's an economy tyre. Unlike the Pirelli's originally supplied with the vehicle, going into a corner you get a steady predictable slip factor. To expand, you know that going into a corner of Y tightness using X speed will result in Z slipping. Depending on how you look at this, this could be a good thing or not. It's good because it is predictable, but bad because you don't have that infinite grip that you'd have gotten from the Pirelli's. That being said, the Pirelli's would give you so much grip and then just give so you weren't always sure when it was going to give, although like stated earlier, you'd have to be driving like a lunatic to reach that point.

Overall: I've purchased my 3rd pair of tyre's and won't switch brands until they stop making these. Can't say anything bad about them and for around £65 - £70 per tyre, a bargin since I do around 30K miles per year.
Our golf gti mk5, stage 2 re map, always had michelin tyres before.These tyres are just as good in the dry and just as effective in wet.Amazing performance For less than 1/2 the price.Forget premium tyre hype!TRY THEM!
Given
96%
while driving a
Vauxhall Vectra
(215/50 R17 W) on
a combination of roads
for 5,000
average
miles
Purchased these GT Radial Tyres via Event Tyres (mobile tyre fitter) who where great by the way, got 4 tyres for £300. I previously purchased GoodYear tyres at double the price, but this time decided to go for the Mid-Range GTRadials. I have found them to be superb, they grip superbly in the wet and dry, quieter at speed, no vibration, the steering feels very well ballanced. The only very small downside is the sightly ugly tread pattern but would definatly buy again!