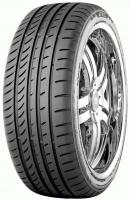 GT Radial Champiro UHP1 Reviews (newest first) - Page 1
Honda
(225/45 R17) on
a combination of roads
for 18,000
easy going
miles
I`ve bought 4 brand new tyres that lasted for more or less 18.000 miles, but with an easy going driving style. The worst in these tyres is its wear, that after little use started to present much wear for the driving style and myles done. It started to open cracks on the rubber on the outsode but worst on the inside.
Given
57%
while driving a
Nissan Pulsar VZ R
(195/55 R15) on
mostly country roads
for 15
spirited
miles
Managed to get these at a good price through a friend to replace terrible tyres on a car I'd purchased that had been sitting for a bit. Figured they would be a compromise between performance and thrift. They are. Dry grips is okay through corrnering. Wet grip was sufficient for the way that I drive. I don't really take much notice of noise and comfort. Main compaints for this tyre were that I'd find that they would often chirp when accelerating with a lot of enthusiasm. I'm not talking about dumping my clutch or anything, just getting rolling a little quicker. Can definitely hear when grip limit is being approached. Found them safe to push in the dry but grip limit isn't enough for me. Also found that they didn't have the steering responsiveness that I hoped for.
A terrible tyre. Had to fit it as my usual pattern was not available.
Very poor grip kn wet riads, noisy and lacks a sporty response
Given
31%
while driving a
Mazda 6
(225/45 R19 W) on
a combination of roads
for 12
average
miles
This tire was great for the first 5,000 miles, then the road noise came. I feel like i am driving a 4x4. Worst tire i have ever owned. People keep asking of my window is down over bluetooth. When these are worn out going to go back to another brand and pay a little more.
Given
47%
while driving a
Ford Focus
(215/50 R17 W) on
a combination of roads
for 0
average
miles
Champiro UHP1 fitted on front wheels but after 10 months star shaped cracks between all the outer treads on both tyres, unfortunately their dealers are not allowed to make a decision on whether tyre is faulty or not, so tyres will have to be taken off and returned to the manufacturer for evaluation and decision will be made within 14 days as to cause (which is obviously manufacturing fault), so presumably car will have to be on axle stands for 14 days waiting for decision, been out and bought 2 new branded tyres
Given
71%
while driving a
CitroŽn C5
(215/55 R16 V) on
a combination of roads
for 9,000
average
miles
Absolutely wonderful tyre in all aspects bar one, the rate of wear. I drive a Citroen C5 Hdi and after10 months and 9000 miles I have to look to replacing the front tyres. Just had the car MOT'd and it's on the advisory sheet.
Maybe it's the car and the wear is ok on other cars, I don't know. I do know that I'm hardly Lewis Hamilton in the car and I think you should be able to expect more than 10000 from a set of tyres. But other than that, in both wet and dry, I found it a fantastic tyre.
Given
81%
while driving a
Honda Civic Type R
(225/40 R18 W) on
mostly town
for 0
average
miles
I got my new summer tyres GT Radial Champiro UHP1, I have Honda Civic Type R.
Size of the tyre 225/40 R18. Price was 75'ā¨ each.
Good grip on dry and in wet. I must say that people complained about Noise. These are 72db, and as i am driving in the city are ok. In highway 120km/h, they are bit more noisy. I have an issue that I need to check the pressure from time to time as they are losing a bit os pressure. I put 2.4 front wheels and after 2 weeks they are 2.2. I am guessing it was a problem from the installation, but i will investigate more. Otherwise, they look good and i am driving them.
Given
79%
while driving a
Audi A7 3.0TDi Auto
(255/45 R18 W) on
mostly motorways
for 16,000
spirited
miles
I fitted a set of GT Radial UHP1 to my Audi A7 after the original Goodyears had come off at 18,000 miles. To be honest I didn't really notice any difference to the Goodyears in terms of wet & dry grip. They gave me 16,000 miles which was ok considering the GYs done 18 & the GTs were about 70% of the price of a set of GYs.
I bought these tyres as a mid price tyre as i was fed up paying for top mark prices i.e contis etc.
At first the tyres seemed ok but after 6,000 miles all four tyres are cracked and perished around all the tread blocks.
They look like ten year old tyres which is totally unacceptable for tyres made on the 35th week of 2012 and it is now only the 12th week of 2012
I will never use them again as a work colleage has the same issue with his gt radial champiro uhp1 tyres and he has only had them on for 6 months.
looks like i will have to go back to conti's or goodyear after all.
Given
93%
while driving a
Audi A3
(225/45 R17) on
a combination of roads
for 10
spirited
miles
value for money