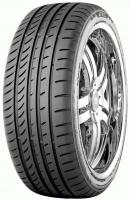 GT Radial Champiro UHP1 Reviews (newest first) - Page 2
I was initially very impressed with the characteristics of these tyres however as the months have gone by they have let me down. There was an increased amount of road noise at first however this was balanced with greater grip especially in the wet compared to my previous tyres. The tyres where fitted by a main dealer as a mid range option & I read many reviews saying that they handled well and where also durable. This has not been my experience however as the middle band of the tyres have worn considerably and are now below 1mm after just 14,000 miles. I noticed they were wearing quickly but feel shocked now I have recently checked them. My car has tyre pressure sensors fitted that are accurate & I check this weekly. I have always ran them at manufacturers recommendations. This is an automatic family car that is driven relatively sedately and have been a waste of money having only lasted 8 months and 14000 miles. I shall unfortunately have to buy again and go back to a big name brand>
Given
73%
while driving a
Ford Focus ST170
(225/45 R17 W) on
a combination of roads
for 1,000
average
miles
Took ages for me to find a decent set of tyres on a budget but went for these instead of real cheap ones due to safety in the wet. Had continental sport contacts on the car originally which were superb all round and would love to have had them again so these in comparison don't do too bad considering price. Not had them long enough to comment on wear but for all other areas this tyre does the job. Not amazing but you feel safer and more confident than the cheap brands you never heard of. Comments mentioned about the noise is true, they are a bit more noisier than others but you can't have everything if you don't pay for it so I can settle with these purely for the what you get for your money. Very pleased.
Given
67%
while driving a
Saab Automobile 95
(225/45 R17 W) on
a combination of roads
for 60,000
average
miles
I previously had used 2 sets of the older HPX GT Tyres, they were very good in all conditions, I recently had a pair of the new UHP1 tyres fitted on the front, in most areas they are good. In the recent snow, approx 30-50 mm deep they gave very little traction, the worst issue with them is that they are very sensitive to changes in road camber something the older HPX tyres did not seem as affected by. Not sure I would purchase further GT tyres for this application.
Given
41%
while driving a
Jaguar S Type 2.7D
(245/45 R17) on
mostly town
for 5,000
easy going
miles
Not worth the effort, grip is above what you would expect from a low price tyre but the wear rate and noise level makes this tyre a waste of money. 5000 miles from the rear (drive tyres) and only 6000 from the front.