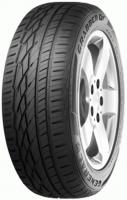 General Grabber GT Reviews (newest first) - Page 1
Volkswagen
(215/65 R16 H) on
mostly motorways
for 40,000
average
miles
Excellent Tyre was abit hesitant purchasing as never heard of them but really impressed after 2 years ans 65000km yes thats correct! I do 200km motorway driving each day and have just replaced two, the rear has abit more thread and thats the thing about these tyres they have loads and wear fantastic! The compound is probably abit harder but doesn't affect handling or feedback they are fantastic for the price range and the insane thread wear if you don't believe try them!
Given
94%
while driving a
Suzuki Jimny
(205/70 R15 H) on
a combination of roads
for 20,000 miles
General GT has lasted well, nice with the side rib protection.
Handles all the UK weather well, no issue in the snow or wet, nice direct feel in the dry.
Given
80%
while driving a
Mercedes Benz ML350
(275/45 R20) on
a combination of roads
for 33
spirited
miles
Covered 33,000 km on this set and extremely happy with wear. Always assured of grip and steering feel. The odd gravel road travel proved to be awesome as well. Left with almost another 5,00 to 10,000 km, but pothole damage to 2 tyres forces me to replace the set. Will definitely buy again.
Given
89%
while driving a
Toyota Hi Lux SSR X
(265/70 R16 H) on
a combination of roads
for 10,000
average
miles
bought the general grabber gt 3yrs ago and 51kms later need to replace. they have been a good all round tyre in dry, wet, off road and towing.
would defo buy again
Given
88%
while driving a
Mercedes Benz ML
(255/60 R17 H) on
mostly town
for 23,000
average
miles
When I bought the car it had Accelera Iota on. I replaced them with grabber GTs and the car seemed like a different car. I have been driving on the GTs for almost 3 years and had 1 puncture due to a 2" screw. Although I have not been seriously off road they managed to drag a caravan cross a wet and boggy field without a problem. There always seems to be plenty of traction, under breaking, cornering and acceleration. I have not used the tyre in the snow or on ice so can not comment on the performance. The tyre does have M.S on the side but does not have the mountain graphic next to it.
So far very happy with General gt grabbers solid feel on dry not tested them in the wet as yet
Good light off-road replaced the dangerous Bridgestone 693 feel save again would recommend these tyres without doubt joe
Given
89%
while driving a
Mazda cx5
(225/45 R17 V) on
mostly town
for 5,000
average
miles
Having 90% of the tyres in this size not matching the manufactures speed rating V, I had to research and shop around for a good replacement tyre I could trust for a good price. The oem tyres were Yokohama g98a which performed well in all conditions and I was generally happy with these but when they wore out the replacement price was 320AUD dollars each as well as a treadwear rating of 280 which I wasn't happy with. I found the gt grabbers were a new product which is a mid range tyre from the continental group from well known american general tyres. I picked the tyres for 165 Aud dollars each with a treadwear rating of 420. I couldn't be happier. They perform well in both dry and wet and are comparable to the Yokohamas for half the price. They will also perform better off road too as they are m+s rated. Would happily buy again. Thanks general.