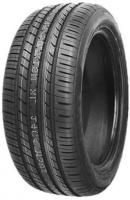 The Goform GH18 is a Touring Summer tyre designed to be fitted to Passenger Car
Show All
Tyre review data from 2 tyre reviews averaging 64% over 15,024 miles driven.
Sorry, we don't currently have any magazine tyre tests for the Goform GH18
Sorry, we don't currently have any label data for the Goform GH18
Sorry, we don't currently have any questions and answers for the Goform GH18. Why not submit a question to our tyre experts using the form below!
Ask a question
We will never publish or share your email address
Top Goform GH18 Review
I purchased my 2009 Nissan Skyline 370 GT CROSSOVER a rear wheel drive car with 335 horsepower, with the Goform Zonda GH 18's already on them. Being a direct Japanese import, I'm not too sure how long the tyres had been on the vehicle before I purchased it ( Only had 27,000 kms on the speedo). I have had the car for 9 mths now and the tyres are OK on dry road conditions, they are quiet and comfortable, but wet weather driving is a different matter altogether. The tyres just let go without any warning at all and I have had the front and back slide out on me going around roundabouts in the wet. Even taking off from the traffic lights in the wet, you cannot give them too much gas as you will spin and just sit there. I would not recommend these tyres at all for a performance car. Good luck. John
Latest Goform GH18 Reviews
Have you driven on the Goform GH18 tyre?
Have YOU got experience with the Goform GH18? Help millions of other tyre buyers
Given
79%
while driving a
Subaru Outback
(225/45 R17) on for 15,000 miles
A cheapie chinese import, with very good dry & wet weather handling. Comparable with the replaced Yokohama Geolanders.
Efficient & quiet treadpattern, with reasonable wear (30000+km)but the soft sidewalls are the dealbreaker. I easily ripped a hole, in a minor slow speed curb scrape. My tyre dealer also informed me of this common trait.
Replaced with Aoteli. Review pending....
I purchased my 2009 Nissan Skyline 370 GT CROSSOVER a rear wheel drive car with 335 horsepower, with the Goform Zonda GH 18's already on them. Being a direct Japanese import, I'm not too sure how long the tyres had been on the vehicle before I purchased it ( Only had 27,000 kms on the speedo). I have had the car for 9 mths now and the tyres are OK on dry road conditions, they are quiet and comfortable, but wet weather driving is a different matter altogether. The tyres just let go without any warning at all and I have had the front and back slide out on me going around roundabouts in the wet. Even taking off from the traffic lights in the wet, you cannot give them too much gas as you will spin and just sit there. I would not recommend these tyres at all for a performance car. Good luck. John