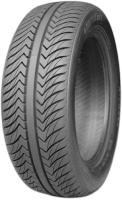 Goodride R VH680 Reviews (newest first) - Page 1
Given
20%
while driving a
Alfa Romeo
(205/55 R16 V) on
a combination of roads
for 20,000
average
miles
Bad type of tyre. Most noise, very bad on wet road, uneven wear,
tread opposite to the running direction on right tyre(it means uneven wear and irregular steering working).never again!!


Given
57%
while driving a
Nissan Primera
(195/60 R15 H) on
mostly town
for 10,000
spirited
miles
I've had these fitted to my car for nearly 18 months, but after about 12, they were starting to screech in dry conditions and sliding in the wet. I favour a tiny amount of oversteer because I hate the idea of sliding head on into traffic, so I had some alternatives fitted to the front with these shifted to the back. So far so good, until today, when going around a roundabout I've driven for ten years - the backend gave way in damp conditions. I put this down 100% to the tyres as my previous rears that I had to change through a puncture were absolutely perfect. Im going to get these changed as soon as I can. The worst tyre I've ever had. OK to begin with, but they seem to go off very quickly. I have never lost control like that and will never buy these tyres again. I cannot recommend them. Do not buy them if you value you life.