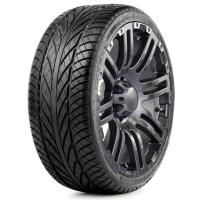 Goodride SV308 Reviews (newest first) - Page 2
Given
89%
while driving a
Alfa Romeo 166 ts
(225/45 R17 W) on
a combination of roads
for 3,000
spirited
miles
Very good tyre for the price you pay for.In corners are excellent poised and very solid on the road.I`ll buy two more for the rear soon.
Given
89%
while driving a
Audi A6 2.5 TDI Quattro
(225/45 R17 W) on
mostly country roads
for 11,000
easy going
miles
Excellent value ,,very pleased with tyres I do a lot of miles in my A6 Audi!!,they have been on for twelve MTS ,and still going ,,will definitely buy again ,and the cost was very reasonable ...

A Mol
Given
84%
while driving a
Land Rover freelander
(225/45 R17) on
mostly country roads
for 5,000
average
miles
Brought SV 308 for my 55 reg Freelander. Fantastic tyre all round much better than Michelin for a third of the price.

Given
90%
while driving a
Mazda 3 Series
(225/50 R17 W) on
a combination of roads
for 9,000
spirited
miles
WOW, bought these tires over the Dunlop Sport Signature i had last year. They are excellent and the wet traction was very good, i can't understand why some people say their not good in the rain sorry but it's total BS. I have driven these on the coquihalla highway for over 15000K in the rain and on dry roads going fast around corners and pushing them to the limits. The ride is very quiet and not to hard on the bumps I have nothing bad to say as i'm very happy and suprised in how good these tires are. I paid $536 installed and was not expecting much, but their excellent and i'll be buying a pair as soon as they wear out. They compare to my Dunlop, BFG and my pirelli tires
Given
77%
while driving a
Volvo S40
(225/45 R17) on
a combination of roads
for 25,000
average
miles
On the car when bought, I have had no problems with these tyres in all weather (including snow). They are 50 profile so they're a bit firm on bumpy roads, they are a bit noisy on some too, but I've done 25k with them and I'm buying a new set... speaks for itself really.
300+ wet days.. Done 6000 miles on front plenty of grip in all weather conditions ..now put on rear had no problem,s rear as stable as before with GY NCT5 .... Have had a lot of problems with marigone and Avon tyres which. Made car very unstable so very happy with sv308 And 2000 miles on rear 5mm still left. Will be getting a 2nd pair soon
I'm really happy with the grip on these tyres, bought 4 new ones, been driving them for a while now, today was raining and I was deliberately breaking hard on wet road and no skidding at all. Quiter than my last ones I had (wanli/primewell - front/back) and comfier too... not as good as the Firestone I had, but for the price range class, they are defenitely good buy.
Got 2 for front end great price to replace GYNCT5s.at first they felt soft till I added 1psi made all the difference great dry grip also good below 6 to -2.5..as for wet they cope as well as the nct5,s. On the roads of the west coast of scotland.(300+) wet days a year.
The engine runs quieter with more mpg. At 1/3 the price great buy certainly buy again...
Given
100%
while driving a
Ford Galaxy
(215/55 R16 W) on
mostly country roads
for 40,000
spirited
miles
I've done 40,000 miles with these tyres on the fronts, and they are absolutely brilliant!!
I don't drive like a granddad, and i can say these are the best tyres i've ever owned.
Super quiet, definitely grippy, If Carlsberg tyres these are what they'd be like:)
Given
20%
while driving a
Volkswagen Golf
(195/55 R15 V) on
mostly town
for 0
average
miles
i bought two last year in September i'm kind of happy and i will buy another set end of November.