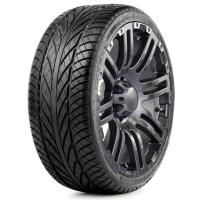 Goodride SV308 Reviews (newest first) - Page 3
Given
84%
while driving a
BMW 130i M
(225/45 R17) on
a combination of roads
for 2,000
spirited
miles
Amazed by these tyres. I wasn't expecting a lot as I just needed 4 cheap tyres for the MOT, but what a surprise. They grip as well as the Dunlops I replaced in the dry and grip much better in the wet (but that may be more to do with tred than tyre!)I little less progressive when pushing it.
They are a LOT better on fuel economy, over 10% improvement immediately.
For anybody looking for a budget tyre these really are just superb and as good as many premium tyres I have used over the year and a lot better than any other budgets.
Given
56%
while driving a
Ford Focus ST
(225/40 R18) on
mostly country roads
for 6,000
average
miles
Cheap tyres already on car. Good dry grip, not so good in the wet. Noisy compared to premium tyres of the likes of Bridgetone, Michelin, Pirelli. But what do you expect with a tyre that costs 1/3 the amount of one of them. Some people who say the have lost control with these, learn to drive and adjust oyur driving style to the weather accordingly.
Given
73%
while driving a
BMW 120i
(225/40 R18 W) on
mostly motorways
for 1,000
easy going
miles
Bought 2 of these tyres for the front end. They're pretty good value for money. The grip in the dry is OK, in the wet its reasonable. Only real bad side is that the comfort isnt super. But what do you expect from budget tyres. So in my oppinion: Good tyres of you are a easy going driver who adapts his driving style to the weather and road conditions. Would probably buy them again.
Given
69%
while driving a
BMW E39 5 series
(225/45 R17) on
mostly town
for 15,000
average
miles
Good on asphalt. Not good on snow, i dont understand why they have m+s winter mark, they definetly are no winter tyres but on summer they are ok. they have probably very strong construction as they are not soft at all to drive and also wear very slowly. probably you are notice difference between 3x higher price tyres but i cant say that they are bad or dangeros. i think it is good joice if u dont want spend too much to tyres.
Given
73%
while driving a
Alfa Romeo 159
(215/55 R17 W) on
a combination of roads
for 25,000
average
miles
I had all premium tyres, Bridgestone, michelin, pirelli . I can say that I like these Tires, they really do their work, only a bit worst than the edge of best premium models. May be I was lucky I don't know but I'm very happy of Goodride SV308. I live in Turin ( Torino )here winter it's true, What can I say? Good in Snow, Good in rain and VERY good in Dry. I've run on the road for the "Colle di Tenda" very fast and enjoing myself a lot.
Given
20%
while driving a
Volkswagen
(235/55 R17) on
mostly motorways
for 2,000
easy going
miles
Very poor driving, quite big noise, on idle running car runs twice less distance, the tire rubber has bad stink, consumes 14.8 liters per 100 miles:( Previous tires max 12,6 LPHM) at a average speed 60 m/h. Lets try to count money economy: lost on comfort and per 20000 miles with good brand tires 200x 12,6x1,33 = 3350 pounds. For Budget Goodride 200x14,8x1,33= 3937 pounds, you pay 587 pounds extra price for driving 20000 miles with Goodride tires:), big save:)
very good value for money
Given
22%
while driving a
Ford S Max
(225/45 R17) on
mostly town
for 4,000
average
miles
Got to be the worst tyres i have ever used, these were on the car when i bought it in the summer. At first i thought it was my driving style that was the cause for the sliding and slipping and the fact that i have just switched to front wheel drive after driving 4x4 for the last ten years, but after my wife nearly lost control in the wet we decided it was definately the tyres that were at fault. You cant apply power in the wet at all, theses tyres should be removed from sale before someone gets hurt!
Given
48%
while driving a
Lexus GS
(225/50 R17) on
mostly town
for 15
average
miles
Bought these in May, was recommended as a good all season tire. Not very good in rainy conditions, and absolutely TERRIBLE in winter conditions. My old, bald tires were better than these in winter conditions. Very disappointed, they should not have these on the shelves in any city with snow.