Goodyear Eagle F1 Asymmetric SUV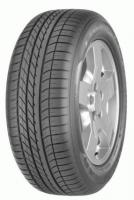 Goodyear Eagle F1 Asymmetric SUV Reviews (newest first) - Page 1
I've gone through various tyres on various cars and never written a review. I initially wanted to buy the LS2 all season tyre which was out of stock so rather than waiting I opted for the 2017 Eagle F1 Asymmetrical SUV XL tyre from Goodyear. I've been very pleased. Noticeably quieter than the continental sport contact 5 and various Hankook and Pirelli tyres. The wear is excellent. I've still got close to 5mm after 2 years use and newrly 13k miles. Very comfortable low noise and good grip. I'm driving a VW Touareg 2016 model so I'm not exactly throwing it about but it grips well when required
Given
94%
while driving a
Mercedes Benz ML350
(255/60 R17) on
a combination of roads
for 15,500
spirited
miles
I bought these to go on my ML to replace the average tyres it came with, my main aim was for wet grip. These deliver that is spades, simply a brilliant tyre in the wet and equally as good in the wet, they just hang on!
The ML is not a light car so I am not expecting a lot of kilometres out of them, but they are doing very well thus far.
A very good tyre that I will definitely buy again!
Given
83%
while driving a
Volkswagen Touareg
(265/50 R19 W) on
a combination of roads
for 5,500
spirited
miles
In March 2016, I bought four new F1 tires for my VW Touareg V8. I mainly drive medium speed highways (80-140 Km/h) and unpaved roads. Before I place my statement I have to say that the roads I use are very tortuous and I generally drive them fast. I am very much aware of tire pressure control and tire rotation (done at 5.000Km). My comments:
- Cornering is excellent, both on dry and wet conditions.
- Noise is surprisingly very good, even on higher speeds.
- Tire balance is perfect, no vibrations or shimming at all.
- The main issue of this product is wearing. I have less than 8.000 Km and I already have to consider changing tires before the next rain season in October (the outer borders are totally weared out and aquaplaning is scaring my wife to death while I drive through the usual heavy rains that fall during summer time in Brazil).

Volkswagen
(275/45 R20) on
mostly motorways
for 7,000
average
miles
Had brand new tyres on the back of my VW Touareg MkII . Reached legal limit (1.6mm) in only 3 months - 7,000 miles. Weare was even across the whole tyre - such a rip off for £175 tyre. Will never buy these again.
Given
90%
while driving a
BMW X5 e70
(255/50 R19 W) on
a combination of roads
for 1,000
average
miles
Had to change my Pirelli P Zero run-flats on my BMW X5 4.8i. I wanted to change them with another set of Pirelli P Zero run flats, but unfortunately they are not making them anymore for the BMW X5. Instead they told me that Pirelli makes the Pirelli Scorpion Verde for the SUV's now. Going through the tests I found out that the best tires for the SUV's were the Continental ContiSportContact 5 and the Goodyear Eagle F1 AsymmetricSUV. It was very difficult to find the Continental or the Goodyear run flat, in Bahrain and Saudi Arabia, but easy to find the Pirelli Scorpion Verde. I almost bought the Pirelli's but luckily I found the Goodyear in Saudi, they had only 4 tires left, and I got them cheaper that the Pirelli's. Really a big change on the car. I thought the Pirelli's P Zero's were good, but I changed my mind after I fitted the Goodyear's. More quit, more comfortable, better grip in dry and excellent in wet. The road feedback in dry is not the best, but they have a very good grip and this is what mostly matters. The road feedback in wet is excellent and the grip is like they are glued on the road. I just used them for 1,000+ miles and I can't comment on the wear. Will update after more miles done.
the Goodyear Eagle F1 came as OE on m,y Touareg. After about 12500 miles I noticed the rubber was chipping off the tyre, especially the edges. The flat part of the tyre didn't experience the same flaking/chipping of the tyre and still has several . When shopping around for new tyres several tyre dealers told me that they see this regularly on the Goodyear Eagle F1. I complained to my VW dealer, who basically said it's a tyre issue, and I should take it VW South Africa. VW South Africa also blamed Goodyear and said it's got nothing to do with VW. Wheel alignment was not the problem. The rear tyres didn't experience the same problem. The tyre is average in its class, but there is a specific chipping problem with them. I wish I could upload the photos.
Given
97%
while driving a
Mercedes Benz ML350
(255/60 R17) on
a combination of roads
for 3,000
spirited
miles
Replaced a set of Kumho's (awful tyre!). The Goodyear's handle the weight of the ML very well with good feedback and turn in. Very good wet and dry braking as well as cornering.
Only had for a few months and I would expect high wear, but grip is more important to me. Great tyre, unfortunately expensive.
Given
57%
while driving a
Mercedes Benz ML
(225/50 R19 W) on
mostly town
for 17,150
easy going
miles
27600 km need changing - absolutely no longevity at all!
Given
94%
while driving a
Volvo XC90 D5 185 HP
(225/50 R19 W) on
a combination of roads
for 500
average
miles
I was pushed towards vredstein by my local dealer when searching for replacements to the stock Pirelli tyres my car left the factory with. Thankfully, the supplier sent the wrong size so he did a good deal on these Goodyears which have transformed the car. Not sure about wear yet but initial feedback is very positive.