Goodyear EfficientGrip Compact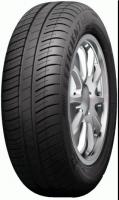 Goodyear EfficientGrip Compact Reviews (newest first) - Page 1
Given
93%
while driving a
Opel Corsa C
(175/65 R14 T) on
a combination of roads
for 4,000
easy going
miles
After 2 summer seasons and 6000 Km i lost only 0.5 - 1mm of tread. Driving them very smooth, i have never gone on limits with them, but for normal driving i can say this tyres are the bestbuy ever, gripy, silent, excellent road feedback. Probably cause of the tests when its rainy i drive like 10-15Km/h less than normal, and so far i have never ever had problems with them on wet roads... for compact cars with no more than 100hp i recomend them for sure....
Given
94%
while driving a
Hyundai Accent
(175/70 R13 T) on
a combination of roads
for 40,000
spirited
miles
still have these tires from 2013 and will change them on oct 2019 after summer. 6 years now only one flat, they still have road life on them, will change them for age as i usually change them every 4 years, the funny thing they still act like new they not lost control or grip so i kept them for another 2 years .. yes yes , i will buy them again
Given
81%
while driving a
Nissan Note 1.5 dci
(225/45 R17) on
mostly country roads
for 0
average
miles
Very quite tyres and very comfortable especially in bad roads.My second car is a Nissan note dci and the dimension of the tyres is 185-65-15.After 40000km with continental premium 5 I change them with Goodyear and I was astonished with the lower noise level and from the comfort driving.Ok in high speeds in highways continental is a bit better tyre but not so balanced as Goodyear.
Given
87%
while driving a
Chevrolet KALOS
(175/70 R13 T) on
a combination of roads
for 10,000
spirited
miles
i think a tire must be revied even by country, i live in Athens Greece, hot summer and not very cold winter as other countries, i can say goodyear is one of the best tires i ever had, low noise good handling and braking, good grip on dry road avarage on wet road , in greece we park everyware, even on pavements etc, this tire has good side walls no buldges etc, will buy again hope goodyear does not change the tire compount to something worst
Given
67%
while driving a
Daewoo Lanos
(175/70 R13 T) on
mostly town
for 0
average
miles
installed my tires end of 2013 now its june 2017 after 22,000 km all i can say rear tires are like new and the front are worn out half way, when new this was a good tire on dry and wet road, after 3,5 years i can say they are now VERY dangerous in the wet and its summer, cannot imagine if it was winter, on my car i have used hankook, avon, continental, these are the worst tires after 3 year life this is a 3 year tire, all tires work fine when new the problem starts when they get old , will never buy again
Given
100%
while driving a
Daihatsu Sirion
(175/65 R14 T) on
mostly motorways
for 720
spirited
miles
This tyre is for a compact car, which mine is - the clue is in the name of the tyre. And I am happy to say this is the nicest tyre I have had on this car - and I have owned this car for many years. I drive 15,000 miles a year and like to get going - know what I mean. The car is a Daihatsu Sirion 1.5sx, and it is quick. Big engine in small/light-weight car. I am 61 years of age by the way. The car is over-maintained and the suspension and running gear is kept in top condition. Owning my car is a hobby.

Anyway.

Pirellis came off and the car has come alive. No more lack of direction and wandering around - the car holds a line. Even under heavy braking it is arrow straight. Blissful.

As for grip all I can say is they do feel like a softer compound and unlike my Pirellis they don't let go when pulling away from a stop in the wet. The car in question may be small but with a very torquey 1.5l engine it will pop a wheelie in the wet without even trying. So on that basis they grip well in the wet.

I recently removed a front wheel for some work and the wheel/tyre assembly was definitely not as heavy as the Pirelli unit before. I have read these tyres are lighter and they really do feel lighter. This good for suspension response - un-sprung wieght.

Dry grip is as I would expect - excellent. Once again with the Pirellis it was all felt a bit doubtful, but with these tyres it all holds together. With the Pirellis I always felt the car was going to let go when in a sweeping curve or bend - it never did but it just "felt" awkward. That sensation has gone away with the Goodyear EfficientGrip Compact tyre.

They are astonishingly quiet too. I could not believe the difference. That soft compound certainly has an effect on noise. The car feels much more comfortable all round.

As for wear rate I can't tell at only 700 miles. But would I care if they wore out after 25000 miles - of course I wouldn't. At £49 each fitted why would I worry, especially as I have all the other great benefits of this tyre. It is as if someone has hand made a tyre to suit my car. I look forward to having a new set.

Like shoes on your feet, car tyres all do the same job but occasionally we get a set that just seems right and become a favourite. This tyre is right for my car. No doubt. I like them a lot.
Given
76%
while driving a
Kia Motors
(175/70 R14 T) on
mostly country roads
for 8,000
average
miles
Tyres wear so quickly goodyear need to change their name to goodmonths. I complained by email and didn't get the courtesy of a reply. I won't buy again
Given
80%
while driving a
Peugeot partner van
(185/65 R15 T) on
a combination of roads
for 100
easy going
miles
Can not evaluate mileage as new , but the tyres are soft compound as evidenced by poor detailing on sidewalls and made in Poland .Grippy tyres will always be a softer rubber hence extra grip BUT manufacturers should ensure sidewall protection as this damage tends to be instant failure of tyre or unrepairable !These are on my work van and better than the previous jinyu on it when bought nearly new .After running them in as required by all mechanical things they are now quiet and comfortable , no heavy rain yet .I always have all season tyres on our ST tdi and they can be a little soft in summer so I run them on max for full load to keep side wall stiff and all tyres get harder with age .One of my Q3 had bulge inner side wall and yet to be resolved as not yet dissected it .Balance for your model and driving needs should dictate choice and usualy brand name which is why reviews are so important , if van tyres ok will put same on back but they are conti's so will wait and see as there is no point in buying a good motor and fiiting bad tyres .
Great set of tyres, hardly any road noise and grip very well in the wet. What more can you ask for.
Given
89%
while driving a
Hyundai Accent
(175/70 R13 T) on
a combination of roads
for 1,000
spirited
miles
can say best new tyre i had on my car ever very low noise very comfortable very gripy was lucky to test it in the rain it was like driving on a dry road
but did not like the country they are made TURKEY
but had good readings
treadwear = 320
traction = A
temperature = A