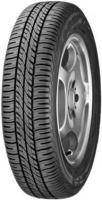 The Goodyear GT3 is a Touring All Season tyre designed to be fitted to Passenger Car
This tyre replaced the Goodyear GT2
Show All
Tyre review data from 14 tyre reviews averaging 61% over 309,723 miles driven.
Sorry, we don't currently have any magazine tyre tests for the Goodyear GT3
| Size | Fuel | Wet | Noise | Weight |
| --- | --- | --- | --- | --- |
| 175/70 R14 95T | E | B | 71 | 8.38kgs |
| 175/70 R14 95T | E | B | 71 | 8.38kgs |
| 185/65 R15 88T XL | E | E | 67 | 7.57kgs |
Sorry, we don't currently have any questions and answers for the Goodyear GT3. Why not submit a question to our tyre experts using the form below!
Ask a question
We will never publish or share your email address
Top Goodyear GT3 Review
Given
43%
while driving a
Fiat Linea MJD
(190/60 R15 T) on
mostly town
for 32,000
average
miles
Considering Gripping, cornering its an excellent tyres. But on other factors...its a looser..
Latest Goodyear GT3 Reviews
Have you driven on the Goodyear GT3 tyre?
Have YOU got experience with the Goodyear GT3? Help millions of other tyre buyers
Given
49%
while driving a
Nissan NV200 Van
(175/70 R14) on
mostly town
for 22,000
spirited
miles
Fitted from new on my van, fairly poor grip in the dry, very poor in the wet easily breaking traction sometimes suddenly. Lasted 22k on the front drive wheels. Better tyres can be had cheaper.
Given
69%
while driving a
Dacia Sandero 1.4
(185/65 R15 T) on
a combination of roads
for 18,700
average
miles
Drove these tires for six summer seasons and for about 30,000 kms. Quiet when new and relatively comfortable. Became noisier and less comfortable during the years. Dry grip OK, but worsened after fourth season. Wet grip was a low point always, never had feeling of security.

The tires were made in Poland, and look astonishingly like Debica Passio, also a Goodyear tire made in Poland.

Wouldn't buy them again and can only recommend these tires if you're driving easy on mostly dry roads and can get them very cheap.

Replaced them with Fulda EcoControl HP in the same size, and a change is straight away noticeable in a very positive matter.
Given
33%
while driving a
Peugeot 1.4 HDi
(185/65 R15 T) on
a combination of roads
for 16,000
average
miles
The GT3 came as OEM, so far (a year later) they are the worst tyres i´ve tried. On wet asphalt you got to be extra careful
as these tyres loose alot of grip, on dry asphalt they´re ok but make alot of noise and not very comfortable on bumpy roads. Another thing why i would never buy these tyres again is durability, I had two of them been "fixed" 3 times and replaced 1 of them due to too much damage in one year. Compared to the Hankook kinergy gt h436 the GT3 are below on every aspect so far (only 2 months of use), the hankooks are more comfortable and less noisy on dry or wet roads, the handling feels more precise and the feedback is more snappy. Also the price between the GT3s and gt h436 is almost the same.
Overall I don´t recommend the GT3 tyres based on the low reliability and poor performance I´ve experienced.
It is the worst tyre I used in my life . With in 6monts 2 tyre has bursted and the company not taking any responsibility for that. I suggest to don't buy good year gt3
Given
41%
while driving a
Honda Jazz
(175/65 R15) on
mostly town
for 28,000
easy going
miles
Stock tyres for the Honda Jazz (Fit).
Expensive to buy and atrocious performance.
These tyres were borderline bad in the dry and slippery in the wet.
Got rid of them before they were even half way done and it didn't feel like I wasted my money.
When it rains, you'll know it because all you do is drift around round abouts.
Funny it's got a cool name like a Porsche GT3 but alas more like rollerblades on ice.
I'll rate these slightly better than the cheapest hard wearing tyres but anything you can buy from the big names will be better than these.