Goodyear UltraGrip Performance+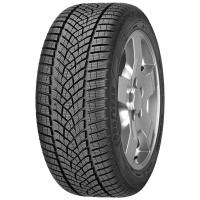 Goodyear UltraGrip Performance Plus Reviews (newest first) - Page 1
Given
97%
while driving a
Skoda
(225/40 R18) on
a combination of roads
for 15,000
average
miles
Extremely good tyres. It was my first winter with this car and with these tyres made driving during winter simple. I had great traction, grip and confidence. I drove on dry, wet, ice and snow conditions during the winter and no problem in any. I will be putting the same tyres on again next winter.
Given
78%
while driving a
BMW 335i
(225/35 R18 V) on for 2,000
spirited
miles
BMW E92 335i RWD MT (~360bhp)
Great grip in the wet, reduces likelihood of aqua planing and disperses puddles much better than my summer tyres (currently Bridgestone Potenza non run flat 255/30/19). Swapped to winter alloys in November. Tyres are comfy and pretty quiet compared to the Bridestone rubber... will be looking at Michelin Pilot 4S for next Summer I think. Overall very happy, despite not having much snow and ice this winter I have more confidence on cold mornings. I can definitely notice the difference that changing the wheels has made. Traction is much better when temp is 5•C and below, the summer tyres were just spinning up at light acceleration. I'm happy to recommend these tyres, FYI please check out the TYRE-REVIEWS channel on YouTube, really interesting comparisons and highlights the pros/cons of tyres... hope y'all found this informative
Given
90%
while driving a
Volkswagen Passat
(225/50 R17 H) on
a combination of roads
for 3,000
spirited
miles
The best winter tires!
Given
85%
while driving a
Renault Megane
(225/40 R18 V) on
mostly country roads
for 2,000
average
miles
The tyres perform well at the first sight. I just drove 2.000 miles on them. The overall handling performance is great, on both dry and wet conditions. I was surprised about the cornering speed in the wet which is really good (of course, you have to increase the pressures depending on the air temerature to get the most out of it). I have a lot of rain in my country, with standing water on my regular roads, and I can say that the risk of aquaplaning is very low with these tyres. Also, they are very comfortables with soft sidewalls.
On the other hand, they are quite noisy compared to my summer tyres (Dunlop Sportmaxx RT2) at 70-80 km/h. I thought I had a failed bearing. And the dry braking is not so good, but it is common on winter tyres, as well as the road feedback which is average.
I am looking forward to test them on snow and update my review.
Perfect grip with no rolling noise.