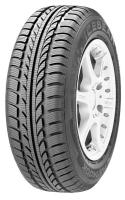 Hankook Icebear W440 Reviews (newest first) - Page 1
Given
100%
while driving a
Renault Laguna I
(195/65 R15) on
a combination of roads
for 6,000
spirited
miles
Excellent!!!! 10/10
Given
79%
while driving a
Mazda MX5
(185/60 R14 T) on
mostly country roads
for 4,000
spirited
miles
My first set of winter tyres, fitted to my mk1 Eunos. Never had any trouble in snow and ice and I deliberately took the uncleared and ungritted roads to work and found the steepest bits I could. Awesome sideways fun. One highlight was overtaking a 4x4 (safely) in the snow with the roof down as he screamed 'are you maaaad?'

Took 100 miles or so to bed in - they were so slippery to start with, I kept having to check I didn't have a puncture. Once bedded, dry grip was enough, wet grip quite good. No real noise penalty over the summer gsd3s. They do lack quite a bit of precision and introduced quite a bit of response delay. Very comfy though.

It's prompted me to get winter tyres for my other car and also for my missus to insist on having a set too.
Given
100%
while driving a
Skoda Suberb MkII
(205/55 R16) on
a combination of roads
for 15,000
average
miles
Best tire for your money. Forget so called premium brands wich take your money for nothing or at least nothing better than this tire.
Given
76%
while driving a
BMW 530D
(225/50 R17) on
a combination of roads
for 1,000
easy going
miles
Found these exceptioal during the recent big freeze. I drive a BMW 5 series, and they are not renowned for grip on slippery surfaces. These tyres transformed the car with no hill holding any fear for me.I can highly reccommend these.
Given
63%
while driving a
Skoda Octavia
(195/65 R15) on
mostly country roads
for 450
average
miles
Good tyre for the money