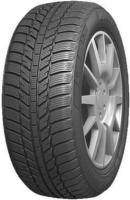 The Jinyu YW51 is a Touring Winter tyre designed to be fitted to Passenger Car
Show All
Tyre review data from 17 tyre reviews averaging 67% over 46,300 miles driven.
Sorry, we don't currently have any magazine tyre tests for the Jinyu YW51
Sorry, we don't currently have any label data for the Jinyu YW51
Sorry, we don't currently have any questions and answers for the Jinyu YW51. Why not submit a question to our tyre experts using the form below!
Ask a question
We will never publish or share your email address
Top Jinyu YW51 Review
Given
86%
while driving a
BMW 320D M Sport
(225/45 R17 H) on
a combination of roads
for 8,000
spirited
miles
I drive a rear wheel drive car and after the constant jibes last year I decided to bite the bullet and buy some winter tyres and wheels. Unfortunately I was on a serious budget due to a rather excessive summer tyre bill for my other wheels and it was with some reluctance that I finally decided on these. All I can say is wow! Winter driving in general was greatly improved and after doing a few hundred miles quite gingerly I decided that these could take the strain nearly as well as my summers. When it came to snow these were in a completely different league - I honestly can't convey quite how good these worked but imagine the difference between night and day. Last year I got stuck in a flat car park just spinning around a bit and wearing my clutch out - this year in the same car park I was flying past everything. My only real concern was that my stopping distances were now so short (in comparison) that I did fear for the back end of my car when the person behind couldn't stop!
Latest Jinyu YW51 Reviews
Have you driven on the Jinyu YW51 tyre?
Have YOU got experience with the Jinyu YW51? Help millions of other tyre buyers
These tyres are ok in snow but any other kind of weather, not so much. On greasy roads they're particularly frightening. I don't even drive a powerful car. I switch on to winters in November from a summer tyre and the difference is incredible (not in a good way) even on the colder roads. The wear is ok but I think I'm just going to sling them and put something better on.
I would definitely NOT recommend these winter tyres.

Given
56%
while driving a
Ford Focus mk2
(225/45 R17) on
a combination of roads
for 20,000
average
miles
OK Winter tyres but expensive for quality, will go for brand name next!
I purchased these tyres for my Smart Car a couple of years ago, just before Christmas (ie Christmas Eve).
I was told there might be snow, and knowing how impossible it was to drive the car at all, even on dead flat, tarmac surfaces roads, I decided to get these from my local tyre merchant - meant to be good value, certaily in comparison to other makes - I've had winter tyres on a previous Smart car for a number of years and they had worked very well - indeed as the car is so light, I had had no need to change the tyres after the winter, and had kept them on for the next 30K miles.
These were a different car, different tyres and a ballgame!
The first journey was on a motorway - going away for 2 weeks holiday. There was a strongish cross-wind (not a gale) and I almost immediately noticed the back end moved about a bit, but I thought this was due to the weather. I travelled gingerly (no faster than 50mph) for the 250 miles, believing the weather was at fault.
Over the next week or so, the weather got warmer rather than colder but I had no need to drive as I was on holiday - so the tyres were not really required or tested further.
When I travelled home, I had exactly the same experience, even though there was no noticeable breeze.
I returned to the store and having had them check the wheel alignment and balance, I took the car out again for a 20-mile test drive, to find exactly the same problem. I returned to be told the tyres were fine and it was road conditions or my driving so I could not replace the tyres as they had been used for several hundred miles and not informing the store within 7 days (remember this was over Christmas week), there was nothing that could be done.
I took the car to Mercedes to check possible other problems, to be told the car was fine. They put 4 of Goodyear winter tyres on instead, these worked brilliantly - AND were actually cheaper!. I was told that above 7°C the Jingus might not have the tyre wall rigidity of other tyres.
I kept the Jingus to try again in cold/snowy weather. This winter, after 3 years/35000 miles full use, the Goodyears needed replacing. I swaped them for the Jingus.
Results:
Handling = rubbish (back of car extremely twitchy),
Actual road-holding (ie straightline stopping/starting) in snow - fine/good.
Clearly a problem with the tyres NOT the car.
Am changing them to summer tyres later today.
Will bin the Jingus.
Sadly not using MTS Banbury again.
I bought these tyres a year ago already on steel rims and part used. They all had about 6mm of thread on them. But I only got around to fitting them today. I've fitted the tyres to my mother's car - a 1998 Ford Fiesta, so I'm not going to be able to give any real long term and in depth analysis of these tyres, other than to tell you if my mother managed to get out of the car park of the local supermarket on a snowy day.

All I can say is I drove the car to the garage for it's MOT and also to get the summer tyres changed with these and on the way home the ride was much nicer, a lot less bouncy then with the summer tyres which were 4 different makes on each wheel. One thing to note that I've not seen pointed out on any review is these tyres are designed to turn in only 1 direction, so the tread pattern is pretty good in that it's designed to provide good grip going forwards. I'd say the car drove much better on these tyres, part of the reason for that will be having 4 tyres all of the same make and model.

Right now it's the first week of December 2017 - they keep telling us this will be the coldest winter in 5+ years, so if it is then it will give use a good chance to test out these tyres. All I can say right now is the tyres seem fine and they drove a lot better than the previous mixed set of tyres.
Good winter tyre does the job . Very good value for money. Better than summer tyres in the snow