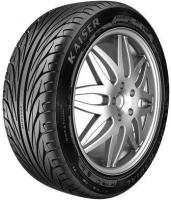 The Kenda KAISER KR20 is a High Performance Summer tyre designed to be fitted to Passenger Car
Show All
Tyre review data from 59 tyre reviews averaging 56% over 437,212 miles driven.
Latest Group Test Results
2012 Autobild 50 Tyre Braking Test - 41st of 45 tyres
View All Tests >>
| Size | Fuel | Wet | Noise | Weight |
| --- | --- | --- | --- | --- |
| 225/40 R18 92W XL | E | C | 72 | 10.00kgs |
Sorry, we don't currently have any questions and answers for the Kenda KAISER KR20. Why not submit a question to our tyre experts using the form below!
Ask a question
We will never publish or share your email address
Top Kenda KAISER KR20 Review
Given
49%
while driving a
Rover 45
(225/45 R17) on
mostly motorways
for 10
average
miles
I inherited an old Rover 45TD with a set of these things and having always used premium brands previously I was quite impressed by the dry performance even though the noise levels were excessive but most of all they looked good but 10k through the summer and no complaints.

Then it rained, not heavily but on several accasions on a damp/wet road the front end has lets-go all-too easily to the point where I would consider them dangerous (All 3 incidents were below 30mph - 2 x pulling up for a junction and 1 x drifting gracefully across a downhill junction)

I am about to scrap 4 "good" tyres and put-on a set of premiums which is as expensive but nowhere near as bad as ploughing into a ditch/car/child

These things are dreadful in the wet.

Latest Kenda KAISER KR20 Reviews
Given
42%
while driving a
MINI Cooper S
(205/45 R17) on
mostly country roads
for 200
average
miles
Purchased a Mini Cooper S with these fitted on the front (brand new). Two weeks on I have just ordered some different ones. In the dry they are okay, fairly comfortable with okay road noise. However, in the rain they are lethal! No grip whatsoever, just driving at normal speeds and the traction control is working overtime to keep me on the road.
Given
39%
while driving a
Skoda Fabia vRS
(205/40 R17) on
a combination of roads
for 4,000
spirited
miles
I have these tyres fitted to my Skoda Fabia vRS diesel. Dry grip with them is average, they stick ok but you dont get much feedback or precision from the steering. Braking is fine in the dry even with big brakes stopping from high speeds. Traction is also acceptable.
The biggest downside is when the roads get wet! They are terrible. The car is very unstable and is actually scary to drive at any normal speed. I have to take corners and roundabouts very slowly, was following a lorry around a bend at around 15 mph and the back end of the car stepped out slightly. Traction wise in the wet I cant use full throttle until 4th gear as they just spin and the traction control goes mad. Braking is not too bad however they do grip ok in a straight line. They are also extremely noisy and give a harsh ride.I will never be using these tyres again, just changed to Goodyear Eagle F1 A3 and they are soooo much better.
It is an Aggressive tread design that provides excellent traction and management These tires have big or thick Shoulder lugs for grasping the road for cornering grip and also a sleek face that is broad. Evacuating water is usually not a effective point of this type of tire. They are Made out of a milder rubber Chemical that assists grip but wears out fast. Functionality Kenda Tires are usually short lived.
Given
30%
while driving a
Skoda Octavia vRS
(225/40 R18) on
mostly town
for 6,000
average
miles
I bought a set of wheels which had these tyres on for a couple of hundred miles from new. Honestly one of the worst tyres I have ever experienced and that's including driving a car which had 3 completely different tyres on at one stage. They are poor and noisy in the dry and horrendous at best in the wet.